Last weekend I went shopping with my Mom, just a nice quick whiz around the shops nothing too heavy on the purse. I had something I wanted to exchange from Bodycare and when browsing around looking at all the beauty goodies I saw this...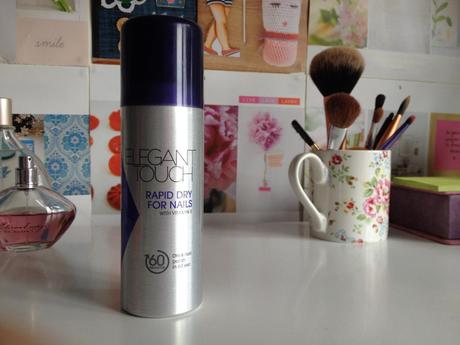 Elegant Touch Rapid Touch for Nails - £2.90
Elegant Touch Rapid Dry for Nails
. I first saw this product when reading a post Lily Pebbles wrote 
here
, I didn't know you could get such a thing - have I been hiding under a rock?
Thanks to products like 
Bourjois Magic Nail Polish Remover

 doing my nails have become slightly more hassle free. The one thing I do not like about doing my nails is the waiting... You can guarentee that as soon as you've got wet nail polish on your phone will go off or you'll get an irritating itch that you can't scratch incase you smudge your nails. Every time I paint my nails I ALWAYS smudge them, never are they perfect. So are my days over of not moving an inch and waiting for what feels like a decade for my nails to dry?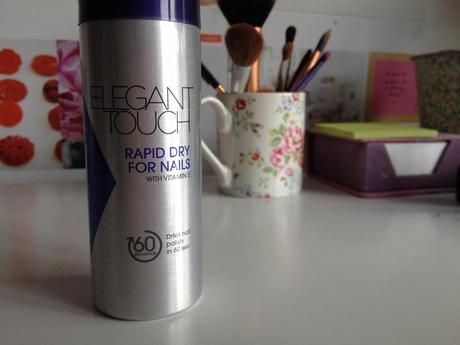 The answer is yes, yes they most certainly are! Elegant Touch Rapid Dry claims you'll have dry nails in just 60 seconds, I'm not sure that's entirely true but it does shorten the time of waiting. You hold the can around 10cm away from your nails and spray over the top of your polish. You just wait a minute - I would say 3 minutes, not 1 and then whallah! I will say however it does make the nail varnish a little matte, you loose a lot of gloss once this has been sprayed but that can be fixed with a good top coat.
 I did found myself spraying one or two nails twice just because they took longer to dry, but that's down to a bit more extra polish on those. 
I think if you're like me and tend to only do your nails when in a rush then you need this product in your life! At £2.90 this bad boy is a total bargain! I don't think I'll be painting my nails again in a hurry without it.