Last week I was complaining about having to run to the store for a few simple items and all the trouble I would have to go through taking two kids. Getting them into the car at home, then getting out, then back in again would take longer than walking up and down the aisles at the store and paying and I LOATHE having to take the car seat out, it weighs TONS.
Just the thought of all that was too much for me so I opted, just like every other time not to go until my husband was back home. Thankfully I didn't need anything super urgent like baby formula, but maybe next time. I really miss the home delivery service that all supermarkets in the UK offer.
I didn't step foot into a store — I ordered everything online and they brought it right in to my kitchen. Little to no extra cost and it saved me the headache of having to go to the store with a child. That, and we didn't own a car so everything I bought had to be carried by yours truly.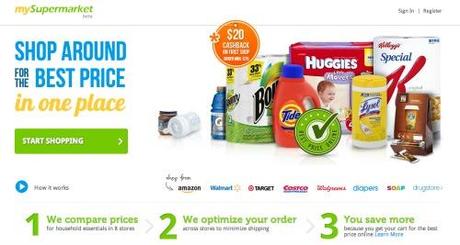 Recently mySupermarket.com launched in the US. Their mission is simple: to find shopers the best price for the brands they want and need.
So my question was, can sites like mySupermarket.com replace trips to the store? In short, YES. Although you will need to do so with a bit of planning. Because the site allows you to shop and find the best deals from different sites such as Amazon, Walmart, Target, Costco, Walgreens, Diapers.com, Soap and Drugstore.com your order may be split into different packages.
How it works
As a busy mamá, I was asked to try the site and given credit to shop for essential items. I was more than happy to do this with just a few clicks! I did a quick search in the kitchen and bathroom to see what I would need soon and placed my order. I ordered baby formula which I would need in the next few days, makeup remover wipes and diapers. Simple and all essentials items I would otherwise have to load up the kids and go to the store for.
mySupermarket.com did find me the best deals, giving me different options and the choice to swap out one brand for another to reduce the cost. Playing around with that feature took a bit of time, but did save me money in the end. The site allows you to shop for mom and baby, beauty, household, personal care, health, beverages, snacks, breakfast and cereals, baking and pantry items. In short, no fresh foods or drinks.
User friendly
The site itself is easy to navigate and it saved me the headache of going to the store with two kids. So that on it's own is AMAZING for me! The only downside to all of this (for me) was that my order did come in different packages and on different days. So the baby formula I was expecting in 3 days, didn't arrive until 5 days later and by then I obviously had gone out to get some in the mean time.
Just bear in mind what you are ordering and how long it will take to reach you — so if you need toothpaste or sanitary napkins NOW you may have to wait. My suggestion is also to make a big order of essentials at the beginning of the month and plan head.
Have you tried mySupermarket.com? What did you think?
Connect with mySupermarket.com Facebook | Twitter | Site
Disclosure: I was given credit to shop mySupermarket.com. No other compensation given and all opinions are my own.