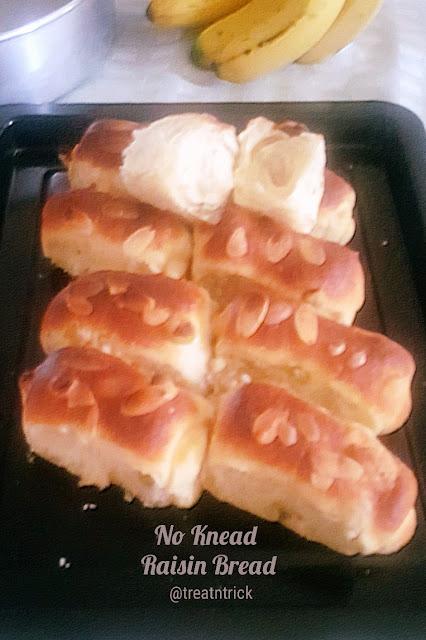 After baking numerous yeast bread, this is my first time making No Knead Raisin Bread.  Seriously am curious whether this bread be above my expectations. 
MAKING THE DOUGH
Just combine all the dry ingredients in a mixing bowl then add raisin and butter. If you are using active dry yeast,  dissolve the sugar in warm milk (not hot), sprinkle dry yeast as specified in the recipe, cover  for 10 minutes to activate.  Check whether the yeast turns foamy if not start all over again. Stir this mixture and add to the flour. 
Reserve 1 tablespoon of egg to use for brushing together with a tablespoon of milk later.  Add warm milk and an egg to the flour mixture,  forms into soft dough.  Cover and let sit for 1 hour or more. 
SHAPING  AND BAKING
After it doubled in size,  punch down the dough and transfer onto lightly floured top.  Roll out into rectangle or round. Equally divide into 10 pieces.  Shape each into desired shape and place into lightly greased pan. You could also turns this into one big loaf.  Cover and rest for 30 minutes. Just 10 minutes before rising time, preheat the oven at  180 C, brush with egg wash.   Bake until golden for 20-30 minutes. Brush with butter after removing from oven if desired.
Am fully surprised to see  this No Knead Raisin Bread turns out tender and fluffy but  I need  to improve my shaping skills.
Other bread recipes you should check:
Milk Bread Rolls Recipe
Braided Bread Rings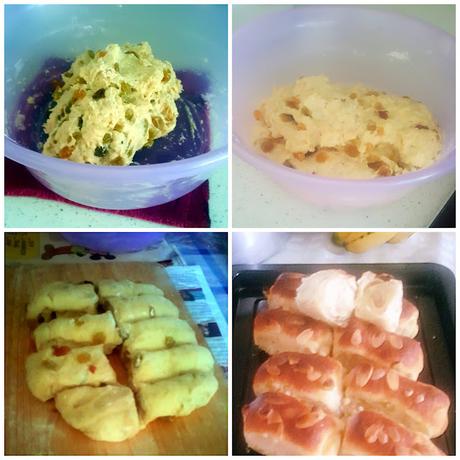 Until Jump Break