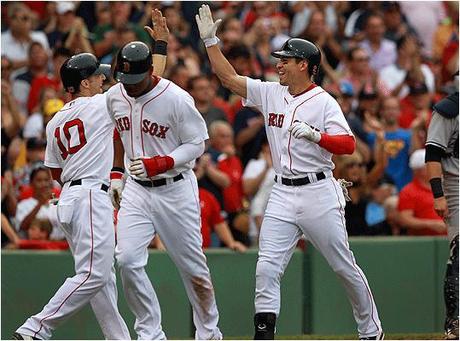 Would you have believed me if I told you on Thursday that the winners of the first two games of this weekend's Red Sox-Yankees series would not be Jon Lester or C.C. Sabathia, but

Boone Logan and John Lackey

?
Lackey gave the Sox what they needed today, six innings and allowed just three runs. This was an important start for him and he did OK. So no Lackey ranting from me.
But if you are a New York fan, you have to be worried about Sabathia. 16-2 this season against teams not called the Boston Red Sox, and 0-4 with a 7.20 ERA (20 ER in 25 innings) against the Sox.
The one-man wrecking crew called Jacoby Ellsbury was at it again, blasting a three-run home run, his 19th of the year, and knocking in a career-high six runs. The Sox blasted the Cash Cow for seven runs in six innings.
Carl Crawford had four hits and now has six straight hits.
Both teams are once again tied for first at 69-42, and the finale will be tomorrow night with Josh Beckett taking the mound.