Spring break has come to an end and with that Little A starts a new phase of life from today. 'Big boys goes to big school', he tells me these days. And with that very sentence I get a feeling I am so used to (only!) after becoming a mother. Our schedule for the ten days was pretty full with alot of activities we got around doing together that I rather missed when he attended play-school.  And then I also had to make the most of an extra pair of tiny hands and a curious mind in my kitchen. We kicked off the first day after Easter with a healthy snack using pretty much everything we love from our pantry and our sweet cravings for the holidays were incredibly satisfied.
Date bites are an often occurrence in our house because it is such a favorite with everyone. However, this time around we fancied to throw in a variety to our usual truffles. For an evening tea, Little A and I sat on the rug and reveled in rusks and these mini peanut butter truffles followed by a walk down the lane. We have promised ourselves atleast an hour of outdoor play before the sun goes down to get our daily dose of fresh air; and have been doing fantastically well until now.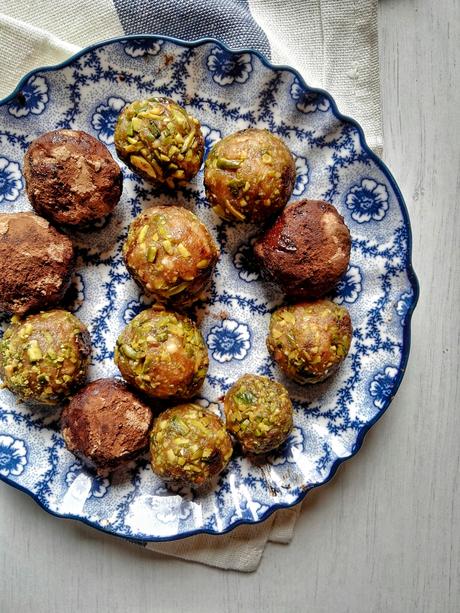 The great thing about these truffles apart from being super healthy (no sugar, no additives) is that the little ones in the house can easily assist you in a no-cook sweet treat like this! Although, it gets a bit messy; you wouldn't care much that you have involved them for a good 30 minutes (depending on the quantity you make) without them clinging to you for your attention while they develop their gross motor skills and guide them to embrace their cooking activities.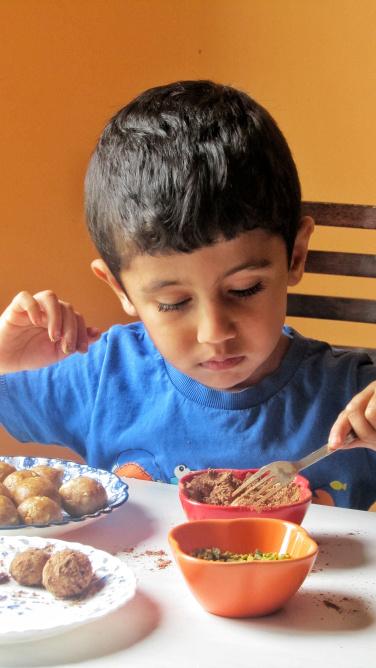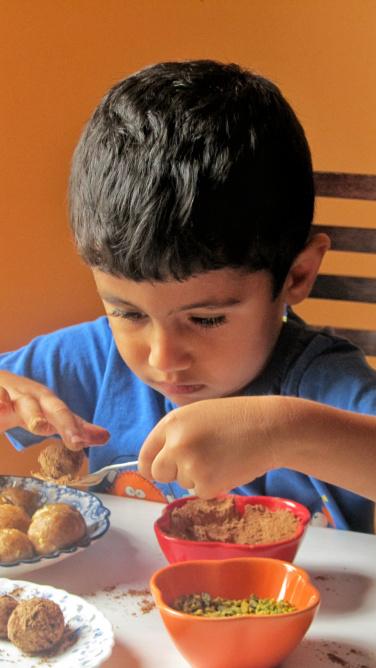 Like any other truffle recipes, these are ideal if you are looking to engage the children in cooking as they are the easiest. EVER. Little A takes over from me enthusiastically whenever I am making these and although they don't turn out the perfect round, we both are so proud at the end of the day! He loves the making process and imagine how wonderful edible treat it would be to gift away during special occasions! And think of them as sweet snacks for children in school to keep them full and satisfied….
We often do so many regular activities in the kitchen but hardly get to take pictures as it makes him disinterested. However, it was a different day altogether when we decided to shoot an instructional video this time.  And we'd love to have your feedback, like always
If you make this recipe, kindly share your photos and feedback with the #thoughtsoverchai on Instagram and Facebook. I'd love to see your creations!
Healthy Peanut Butter Truffles
Ingredients :
Peanut butter – 1/2 cup
Almond meal – 1/2 cup
Coconut flakes – 1/3 cup (optional)
Crushed pistachio – 1/3 cup
Cocoa powder – 1/3 cup
Honey – 2-3 tbsp
Digestive biscuits – 5 to 6
Banana – 1, large
Method :
Place digestive biscuits in a plastic bag and crush it fine with a roller. Alternatively use a food processor to turn into fine crumbs.
In a mixing bowl, add bananas and mash them smooth. Mix in all the ingredients except cocoa powder and pistachios and combine into a smooth mixture.
Take a teaspoonful and roll the mixture into individual balls.
Roll in cocoa powder or pistachio or both.
Serve chilled or store in the refrigerator for upto a week in  an air tight container.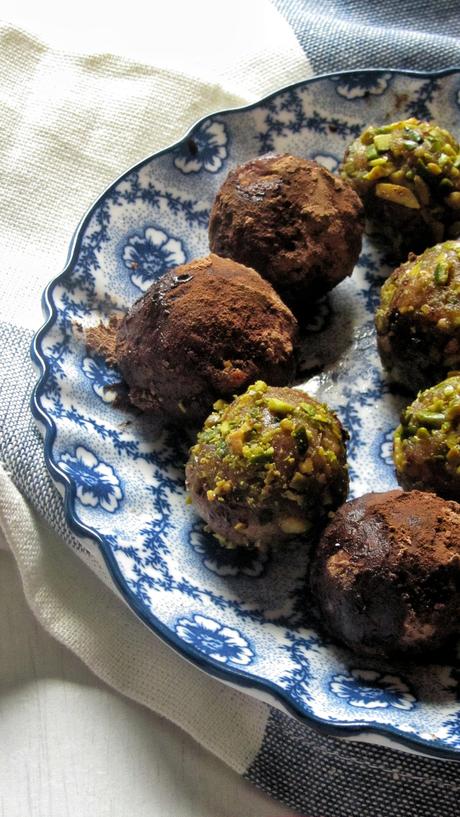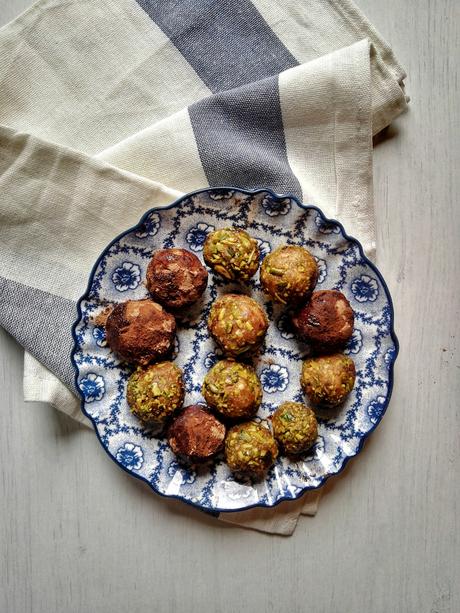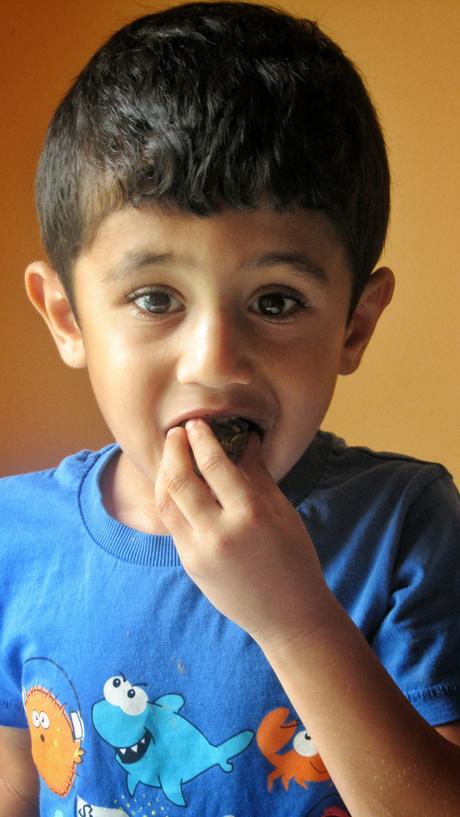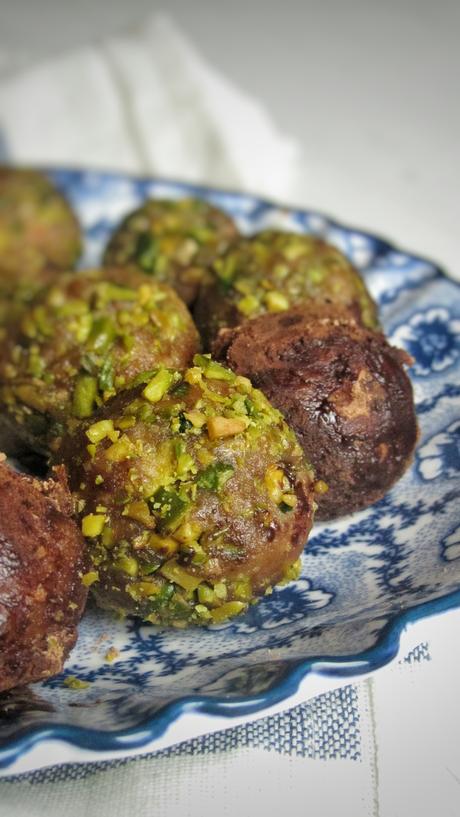 Check out more recipes from the blog that you can easily make with children and encourage them to develop their skills.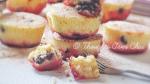 Strawberry Jam Donut Muffins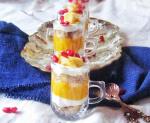 Mango Yogurt Parfait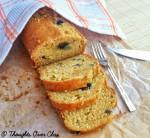 Orange Blueberry Loaf Cake