I have been deliberating over this for WEEKS.
I have a total of seven earring holes (four in one ear in random places, three in the other in a line) and I'm stuck with what to do for the wedding day. I generally don't wear earrings in the day unless I want to feel particularly glam – and I generally either wear all studs or five studs and a pair of huge/long/feather earrings. (Yes, a girl of extremes indeed.)
Before I found my tiara, I had images of me wearing HUGE chandelier earrings on the day, and filling the rest of the holes up with very small white diamante studs. However, before I found my tiara, I hadn't found my perfect chandelier earrings – and then last week I stumbled upon them on the same site as I found my tiara. (In fact, I emailed Kate about them when I found them – and she'd only listed them the night before I noticed them!)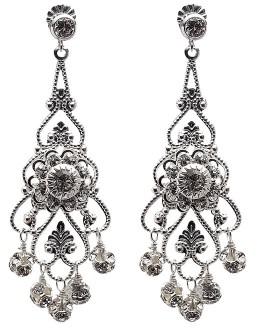 Salma's Perfect Chandlier Earrings - found too late
Unfortunately, I know I can't wear these earrings at the same time as my tiara (boooo! [or can I? ... Nope...]) and so I went on the search for one pair of more detailed studs that I could wear instead (and still fill the rest of the holes with small diamante studs).
Last week I found these – they are nearly almost based around the same flower design as my tiara (quite uncannily actually!) – but are they still too much alongside the tiara? I'm trying to imagine how big they are by drawing a box going by the measurements advertised on the website, but I'm very unsure – and it's a lot of money to spend on earrings when I'm still unsure! (They're £59.)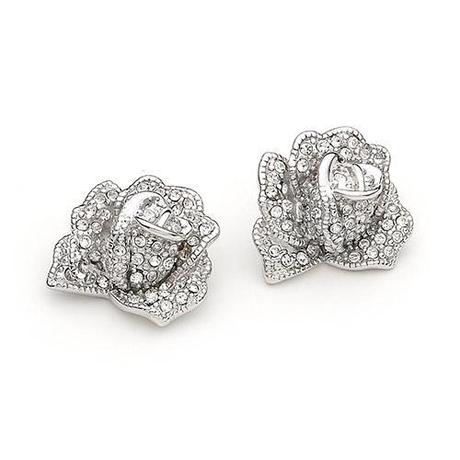 Are they still too much?
And then I thought I could go for something like this – but I'm thinking this type of thing might be better for my bridesmaids? And also – would the red go with small diamante studs? Or could I go for small black studs?! Salma is very confused.

What do you think?
So, dear English Wedding readers, I would really appreciate your opinions on this perplexing matter. GO!