Days to go: 66
Sometimes – mothers do know best.
I spent hours browsing the internet for dress ideas and inspiration. I spent a lot of time in a bit of a crisis – I didn't like most dresses – and I couldn't imagine myself wearing any kind of wedding dress. Like, ever.
When I discovered the creations of Ian Stuart, however, I began to believe I could wear a wedding dress. (And interestingly enough, most of his dresses seemed to go very well with my Irregular Choice shoes!) I spent yet more hours poring over every Ian Stuart design I could find, over and over again, trying to imagine myself in each and every dress.
I felt very proud of myself when I thought I'd picked out the perfect selection of three dresses to try on: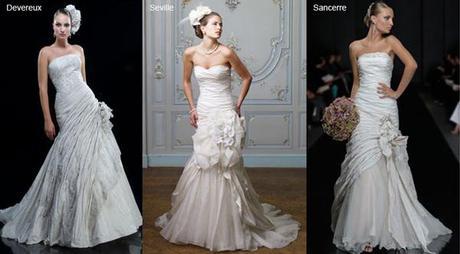 Very luckily, a shop down the road from me stocked Ian Stuart dresses, Fairytale Brides (sounds very unlike me but ignore the name and concentrate on the dresses I thought…) and so I made an appointment to try on those three dresses. I was convinced Seville was the dress for me by this point, but kept the other two in the running just to make sure.
I went to the dress shop with my mum, Richard's mum, and Katherine. There I was, ready to try on my Seville dress and be done with it and tick the dress part off the list.
Straight away, upon arrival, the mothers noticed how nice the dress was on the mannequin in the window and urged me to try it on. This dress was completely NOT what I had in mind – and quite specifically not as it had a certain detail on that I always cringed at on photographs I'd seen online – but I thought I'd humour them and try it on first and get it out of the way.
But there it was. My dress. Absolutely perfect in so many ways. (And the shop sample was a strangely perfect fit too!) And it went perfectly with my shoes.
I tried the other three dresses on just to make sure (and had to travel to the other Fairytale Brides a little drive away to try on the Seville) and they did absolutely nothing for me. Nothing. I couldn't believe that both my mothers had found the perfect dress for me that I had previously overlooked. (It didn't help that photos online didn't do this dress justice – most of the models had no curves and this dress needs curves!)
I found my dress straight away – the first wedding dress I EVER tried on. I wish I'd taken time to experiment and try on more – but I'm confident it is the one for me – and my new bridesmaid dresses make my dress look even better! I'm going to follow Sally's example and leave you wondering until after the big day though. You've only got 66 days to wait.

So three lessons from this post:
1. Dresses always look different in real life.
Don't spend all your time (like I did) browsing for dresses online. Go forth to the shops and try try try! I totally wish I'd tried more on!
2. Don't be afraid to throw away all your carefully planned head-ideas and go with your heart.
You may have a solid idea about what dress you want – but it may not suit your style/shape/colouring. My advice would be – don't plan! Just go and try on loads of dresses!
3. Mothers know best!
I didn't think my mum would know me better than I know myself. But I was wrong. Love you, mum!