Days to go: 5
I've talked about the hen party photo shoot – now I need to take some time to tell you about what my wonderful friends organised for me as a complete surprise – they were all very good at keeping the secrets!
Upon Arrival
I arrived at Ribby Hall on the Friday evening around 5pm and wasn't allowed in any of the houses yet as things were being prepared.I felt very nervous and shaky at this point – I was very overwhelmed and so flattered and honoured that so many people had made so much effort and taken time (and money!) to spend the weekend with me to celebrate my forthcoming wedding; there were 11 of us in total. It was so lovely to see everyone there, especially some friends who I hadn't seen for quite a while! We sat outside for the first part of the evening and drank Pimms and lemonade to our hearts' content – although it started raining a little when I arrived but this soon passed – and then we all got changed into our finest and that's when Becky began work taking some amazing photos. I'm going to get a photo book made up of all the photos of everyone as a memento of the occasion! Everyone had even thought of bringing the ingredients for my favourite cocktail – Cosmopolitan! I was very flattered and it made me feel very special!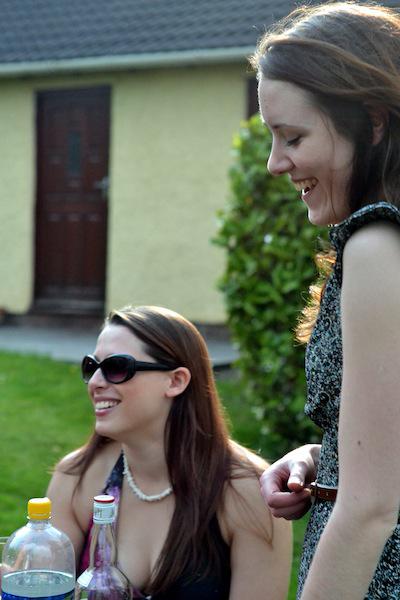 Fiona and Katherine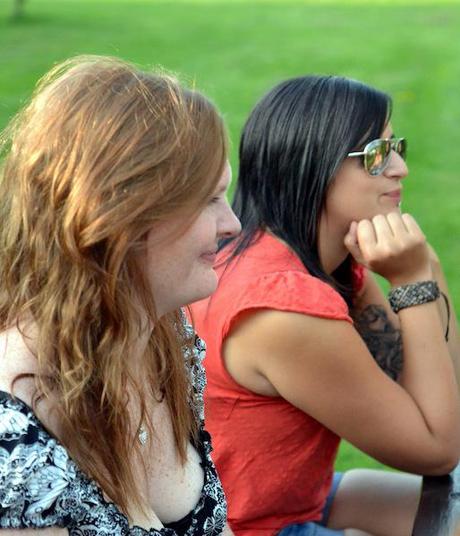 Jen and Sayeeda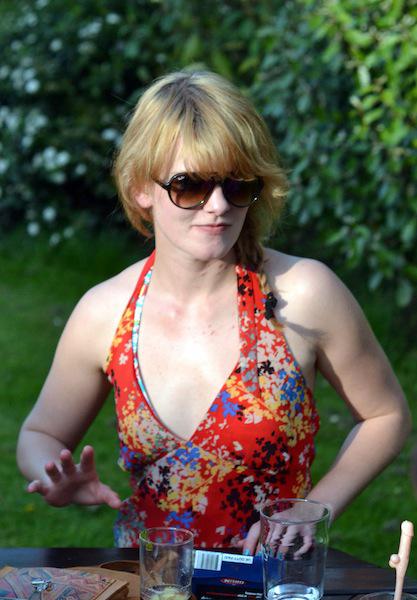 Daisy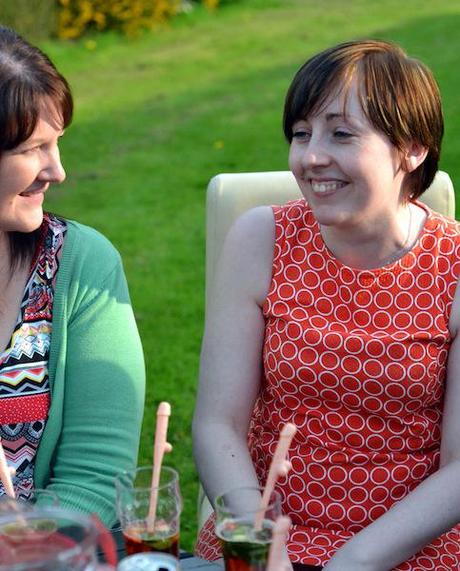 Sara and Leane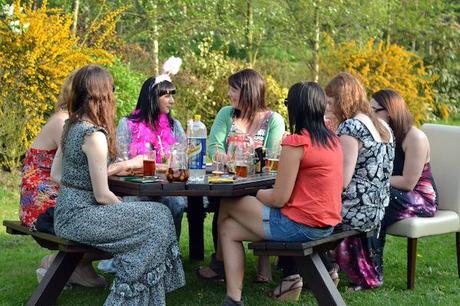 Garden Party Time!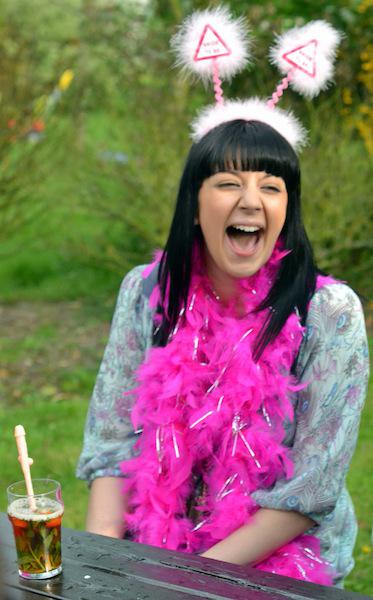 Penis straws all round!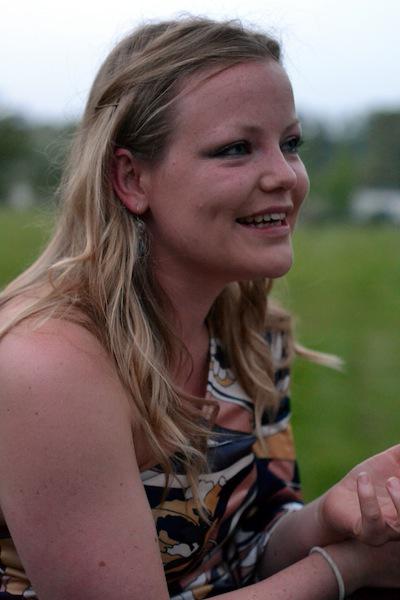 Lucy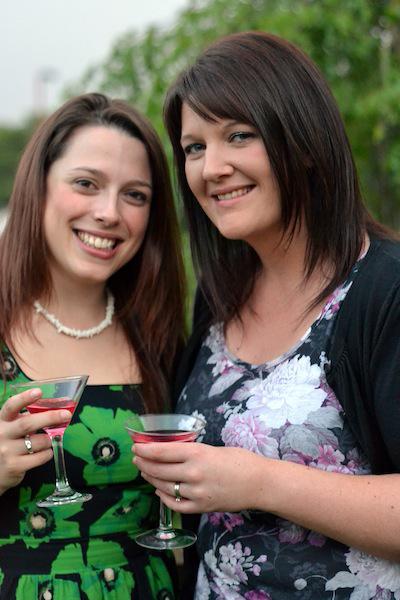 Cosmopolitan anyone?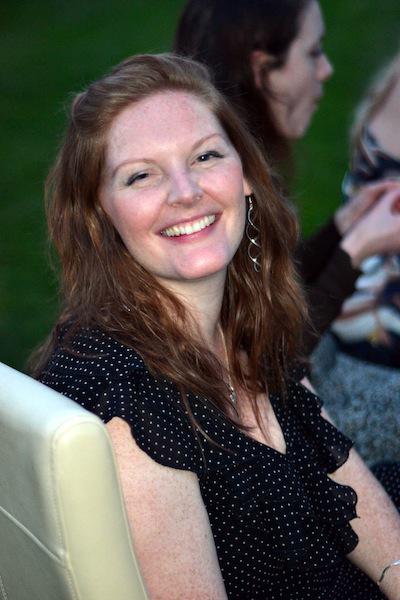 Jen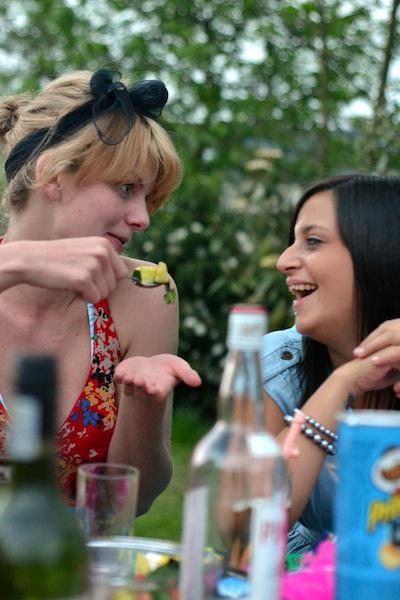 You have to eat the fruit!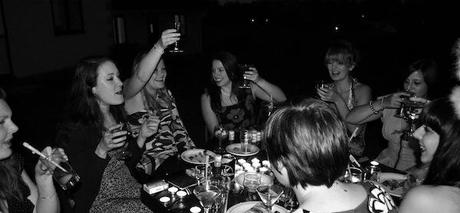 Cheers!
After it had got dark and Becky had left, we moved inside to enjoy the main event of the evening. At this point I gave my bridesmaids their presents which they are going to wear on the wedding day!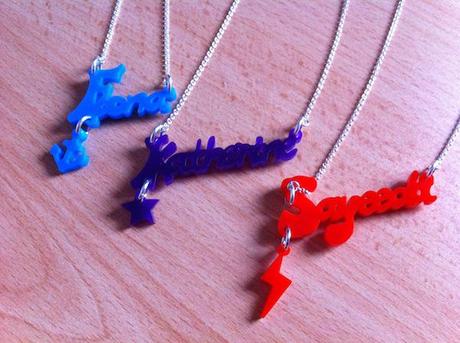 Name Necklaces to match my own!
The Main Event
Katherine and Fiona had organised a little quiz for me – and they had filmed Richard asking me the questions! It was lovely to see his face on the night, however the outcome of the quiz was not so lovely! The rule was that if I got a question wrong, I would have to drink an obscene (in my opinion!) amount of vodka or do some sort of dare. Of course I got most of the questions correct – however they decided it would be more fun to trick me and pretend some of my answers were incorrect – thus making me drink more and as a result, dance like a bad-ass. After the quiz the night descended into madness and it's safe to say I haven't been that inebriated in years – but if you can't do it on your hen do, when can you?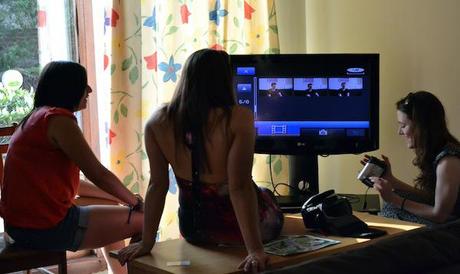 Preparing for the Quiz
The Morning After
On Saturday morning I was pretty unwell and green, however I was treated to my favourite breakfast of smoked salmon, scrambled eggs, croissants and orange juice – not from concentrate! – the attention is in the detail and all details had been thought of, how sweet is that?! After I'd slightly recovered I was treated to a facial and a massage at the on-site salon, which made me feel heaps better! Upon my return there was AFTERNOON TEA all laid out for everyone! (Everyone knows I love a bit of afternoon tea!) And check out the monster cupcake and pile of scones! There were also tea pots and little vintage tea cups and saucers – Fiona did a great job of sourcing everything – she even managed to get those mini martini glasses from Freecycle!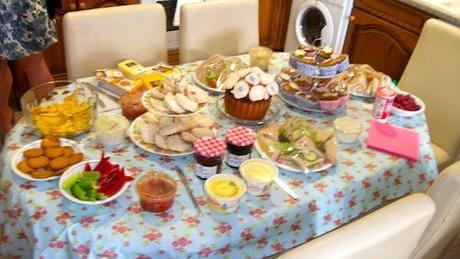 Check out that spread!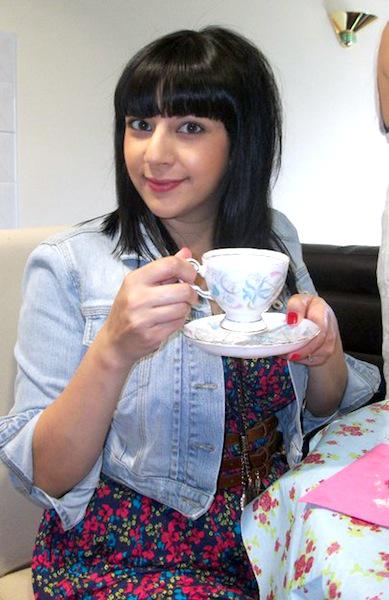 Tea anyone?
Afternoon tea was MOST excellent, I was amazed at the effort that had gone into everything just for little old me! After the food had gone down some of went to take advantage of the 'adult' pool and jacuzzi, sauna and steam room. It was bliss! The facilities were luxurious and clean and everything was absolutely perfect. I couldn't have asked for a better place to be for the weekend! We also had some fun on the water slide, except it was hilariously slow at times, and usually when we got the to bottom we had to catapult ourselves in! I could have stayed there for hours. A good time was had by all!
When we got back it was tea time. Two types of home made chilli and all the trimmings had been prepared in advance so all that had to be done was cook some rice. It was all very delicious! We then sat down to watch a film of my choosing – I chose to watch the first Sex and the City film. I chose it because it was about a wedding – and even though Carrie gets on everyone's nerves, the whole moral of the story is that it's about the marriage rather than the wedding, which ties in with my Star Bride competition theme very nicely.
Most people including myself retired to bed after the film, but some decided to stay up playing twister and drinking tequila until the early hours! Regrettably I'm not that hardcore these days, but I had a wonderful time – and I sincerely hope my hens did too.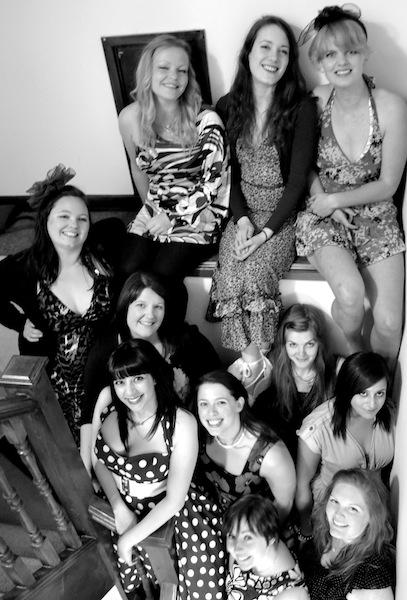 My Hens!
Here's to Katherine, Sayeeda, Fiona, Daisy, Lucy, Rosie, Tanah, Jen, Sara and Leane! I love you all and thank you for making my hen weekend so wonderful and special and going to so much effort in finding all my favourite foods and drinks! I will treasure this experience forever!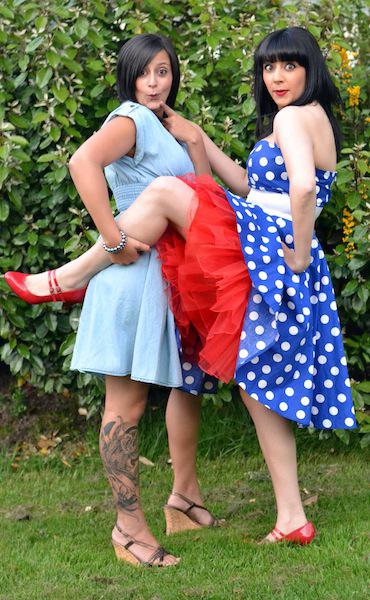 Saucy!