Days to go: 30
Yes that's right people. Only 30 days to go! In exactly one month we'll be getting married! Time really is flying now. And what better time to show you the full engagement shoot we indulged in last weekend!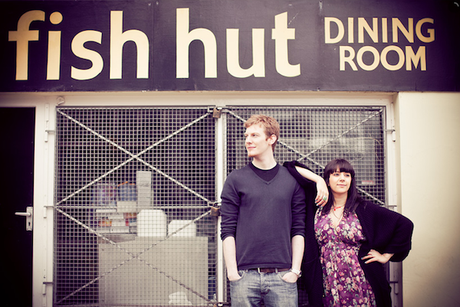 I must first take this time to tell you about our LEGEND of a photographer – Phil Barber. He captured our personalities in these photos absolutely perfectly and frankly, I really don't know how he did it so well. I had visions in my head of how these photos would look for months and Phil has surpassed all expectations and given us something we are so very proud of because of how it reflects us and the time we spent together that day. We'll remember that morning for so many different reasons – it was like I fell in love with Richard all over again. If an engagement shoot does anything, it forces you to take time out of all the wedding planning and your hectic life styles and just spend some time together and enjoy each other's company. It also gives you the valuable chance to discuss the style of your wedding photos with your photographer. I can't tell you how excited I am about how our wedding photos are going to turn out!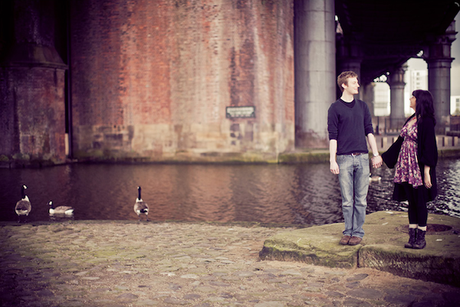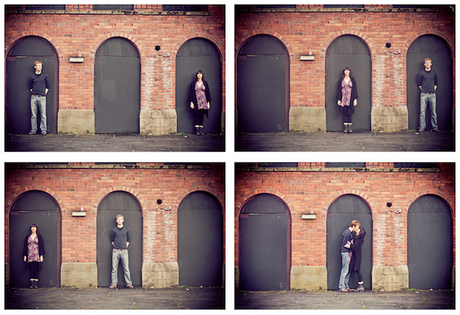 We were both quite nervous about the whole thing. I didn't think I would be but I was! We really wanted to use this time to get used to having our photo taken – there are hardly any good photos of us in existence because usually as soon as a camera is pointed at us, I make a weird face and Richard starts vibrating with nervousness! Even though we started out a little wobbly, safe to say I think we both overcame our fears and ended up with some beautiful photographs!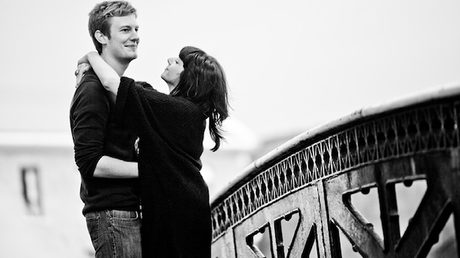 We decided to meet Phil in Castlefield in the centre of Manchester, near the Museum of Science and Industry – mainly because we knew it would be quiet early on a Saturday morning and we wouldn't have to contend with being too self conscious in public! Also I love the contrast of the industrial arches against the old ironwork next to the canal. And there were geese! I joked that Richard should try and pick up a goose and pose with it. (Actually I wasn't joking.) There were so many beautiful locations to take advantage of. It was a very blustery day which totally ruined my hair but blah blah, who cares!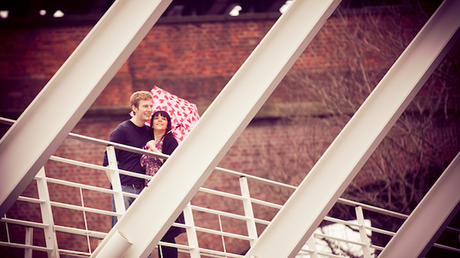 I intended to purchase an umbrella the day before only because I thought it would rain. I couldn't believe my luck when I found that cute little heart umbrella and I knew it would be perfect to include in the shoot. When I decided to get it out there were some moans and groans from Richard, but I know he enjoyed it really. We also decided to bring his guitar along to give him something to do (and we're allowed because we're both musicians, says Phil) as we knew he wouldn't be too comfortable with posing. However, he absolutely loved posing with it!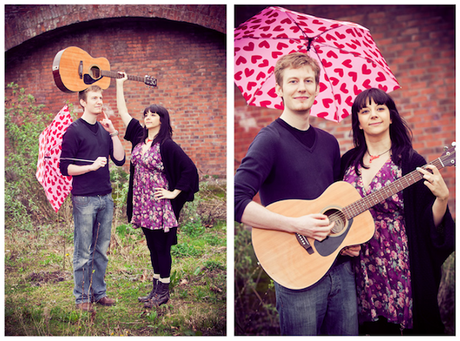 Talking of props, I'm seriously considering using some on the wedding day. Time to build up a prop box methinks! If anyone out there has any random props they'd like to donate for my wedding day (I can return them!) you know what to do!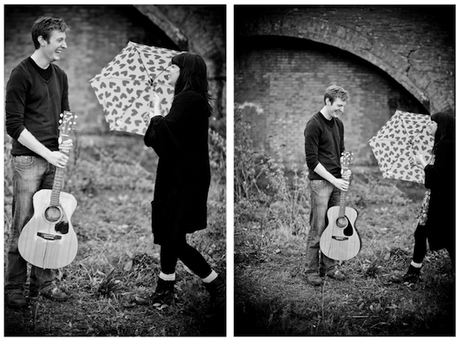 I'll say it again, these photos are JUST SO US! We had a fantastic experience and are just thrilled. We also took some photos that I'm not allowed to show you yet because they are even more special – but these shall be revealed in due course!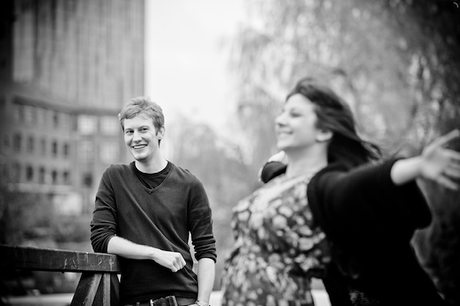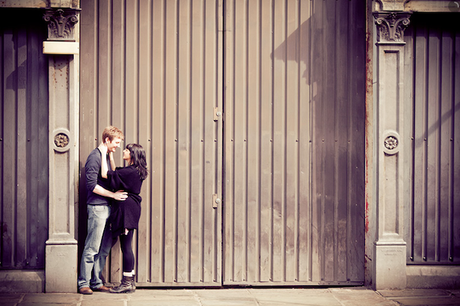 I urge you to go and visit Phil's blog and tell him how amazing he is. Also, if you're reading this post because you're looking for a wedding photographer who does engagement shoots – book Phil! He works with his wife Lou on the day of the wedding so you get two photographers – which is always better than one when the photos are this good! Also, follow Phil Barber on Twitter! And me for that matter. I need more followers.

And Salma's final thought for the day:
Doesn't Richard look ABSOLUTELY GORGEOUS?!