When a chance encounter with an enigmatic woman leads him to a book that inspires him to question his life, Raimund Gregorius discovers that life can change in an instant.
"Night Train to Lisbon", directed by Bille August ("Pelle the Conqueror"), The film is adapted from the ruminative 2004 novel by Pascal Mercier (the pseudonym for Peter Bieri, a Swiss professor of analytic philosophy), an international bestseller published in more than 30 languages.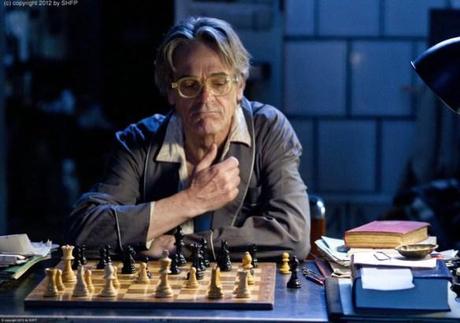 Jerely Irons plays the mild-mannered, aging Classics professor Raimund Gregorius. We first encounter him in his solitary bachelor existence at home, surrounded by papers and books, playing a game of chess in which he curiously attempts to outwit himself for some added excitement, boiling the kettle and making breakfast only to find he is out of tea. He is an intellectual but none the less an everyman as he resourcefully takes a used teabag from the bin and uses it again. These opening moments poignantly evoke Gregorius's state of mind, that he is distracted, going through the motions of a routine and predictable daily life, living in a lonely monotone limbo.
This dramatically changes one stormy morning as he walks to the university and encounters a mysterious Portuguese woman in a red coat poised to jump off a bridge. He reaches out to stop her and somehow, almost miraculously, saves her life. He brings her to his classroom, but she soon disappears leaving her coat behind. In a pocket is a book A Goldsmith of Words, the journal of an enigmatic Portuguese aristocrat and doctor, Amadeu de Prado, a Portugese doctor during  the period of António Salazar right wing dictatorship in Portugal.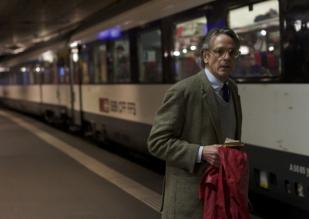 The compelling book instantly consumes and enchants Gregorius affecting him deeply with its beautiful philosophic meditations and poetic prose that speaks to his soul and poses the very questions about everything in life that has preoccupied him for years. When a ticket for the titular night train falls from the book's pages, Gregorius finds himself doing the first spontaneous thing he's done in a very long time, impulsively abandoning his comfortable post as a teacher of classical studies in Bern, Switzerland,and climbing aboard the train to travel to Lisbon.
Gregorius acts as a detective in a restless and enthralling search for the life of a perfect stranger that is ultimately a search for true meaning in his own life. The close film shots of Lisbon's steep cobbled streets, its intimate alleyways and courtyards shows off this organically alive and beautiful city and heightens the sense that Gregorius must uncover the secrets of its past. Behind the grand and crumbling facades of the buildings he is changed by his meetings with de Prado's surviving relatives and friends and unravels the mystery. The clues to solving the mystery of the philosophy book lead to painful memories of the author's life in the underground resistance movement during the fascist regime of Salazar, related by a deadly all-star cast of international faces.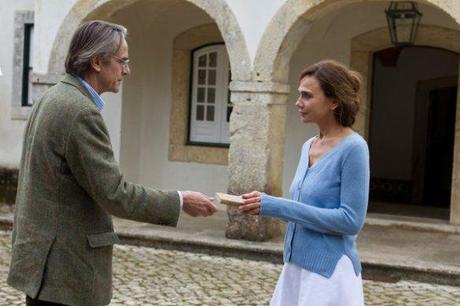 As he puts the puzzle together, flashback scenes also vividly bring the time and place and the political and emotional intrigue of the 1970s back to life. He learns that de Prado was an extraordinary man, a person of blazing integrity, a difficult, brilliant, charismatic figure, a doctor and a poet, and a rebel against Salazar's dictatorship. He also discovers that de Prado died very young from an aneurysm in his head. As de Prado's story comes to light so, too, Gregorius himself begins his life anew.
Once in Portugal, he looks up the author; visits his severe sister, Adriana (Charlotte Rampling); and learns that Amadeu died in 1974 and that only 100 copies of his book were printed. The movie proceeds as a historical detective story that intersperses Raimund's investigation with lengthy flashbacks to a past in which we meet the young Amadeu (Jack Huston), a charismatic member of the resistance to the dictatorship of António Salazar.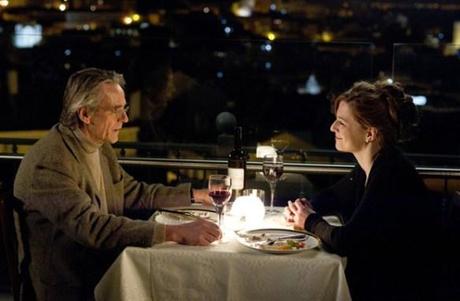 A scripted mishap sends Raimund the way of sexy-older-woman optician Mariana (Gedeck), whose elderly uncle Joao (Courtenay) was, by sheer coincidence, in the resistance with Amadeu. So too was Amadeu's former best friend Jorge (Ganz), today a grumpy pharmacist with a drinking habit. Through Mariana (Martina Gedeck), a friendly optician, Raimund meets the priest (Christopher Lee) who taught Amadeu. He tracks down Amadeu's best friend, Jorge (Bruno Ganz) and learns of Estefania (Mélanie Laurent), a resistance fighter who was Jorge's girlfriend until she laid eyes on Amadeu and they were instantly smitten. (August Diehl is the young Jorge.) Through Mariana (Ma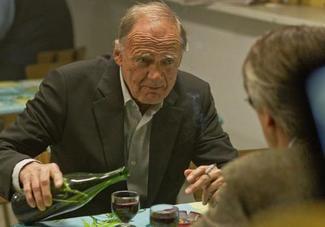 rtina Gedeck), a friendly optician who assures Raimund that he is not boring, he meets her aged Uncle Joao (Tom Courtenay), another member of the resistance who fills in the story. (Marco D'Almeida plays the young Joao.)
The characters in Night Train to Lisbon are enthralling. Even those Gregorius meets only once are significant and every role, no matter how small, has substance. The performances are beautifully observed and masterfully nuanced: Jack Huston, son of the famed actor and director John Huston, gives a compelling portrayal of the passionate Amadeu, of his sensitivity and surreal other-worldliness. As the young Jorge, August Diehl encapsulates the depth of his inner turmoil and confusion; Mélanie Laurent illuminates the screen as the young Estefania, the embodiment of her youth and idealism; Charlotte Rampling evokes pathos and foreboding as Amadeu's disconcerting sister Adriana who is frozen in time; Martina Gedeck charms as the sympathetic, supportive and openhearted optician Mariana who helps Gregorius to see more clearly both literally and figuratively.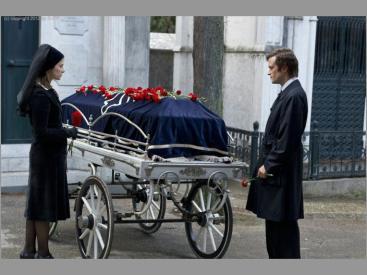 Poignantly looking back over their lives the older actors – Tom Courtenay as the older Jaoa, an infirm fellow resistance fighter who was tortured by the police, and Bruno Ganz as the older Jorge who insists he does not trust anyone who does not take a drink and Lena Olin as the older Estefania – are particularly moving as the jealousies and misunderstandings of the past finally come to reconciliation in the present.
Directed by Bille August; written by Greg Latter and Ulrich Herrmann, based on the novel by Pascal Mercier; director of photography, Filip Zumbrunn; edited by Hansjörg Weissbrich; music by Annette Focks; produced by Peter Reichenbach, Günter Russ, Kerstin Ramcke and Michael Lehmann;
WITH: Jeremy Irons (Raimund Gregorius), Mélanie Laurent (Estefania), Jack Huston (Amadeu de Prado), Martina Gedeck (Mariana), Tom Courtenay (Joao Eca), Marco D'Almeida (the young Joao Eca), August Diehl (Jorge O'Kelly), Bruno Ganz (the aged Jorge O'Kelly), Lena Olin (the aged Estefania), Christopher Lee (Father Bartolomeu) and Charlotte Rampling (the aged Adriana).