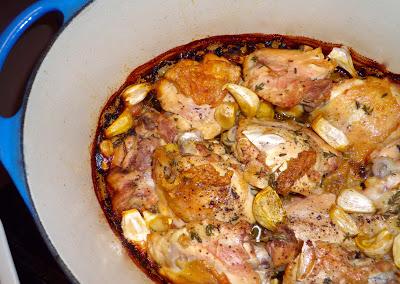 When the temperature drops and the snow starts flying, there are certain tastes and memories that sprout up, sending me up to the library to thumb through my numerous cookbooks, hoping to locate a particular recipe that I absolutely have to make.  This year, the winner hands down seems to be Nigella's Chicken with 40 cloves of garlic.
40... FORTY cloves of garlic, you ask?  Yes, 40.  In fact since we double the recipe most of the time it's actually 80.  But, never mind the number of garlic cloves you use.  This is an absolutely fabulous dish.  One you'll find yourself making over and over for yourself, family and friends on those cold wintery nights!
Chicken with 40 Cloves of garlic, is one of may wonderful recipes that can be found in Nigella Lawson's book Nigella Kitchen.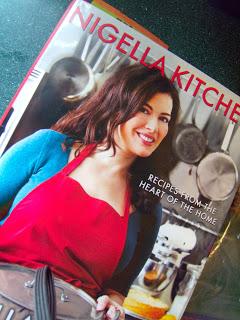 2 tablespoons Olive Oil8 chicken thighs (skin on bone in, preferably organic)1 bunch or 6 scallions  *we use green onions8-10 sprigs fresh thyme40 cloves of garlic ( aprox 3-4 heads) unpeeled2 tablespoons dry white wine  *we've also used lemon juice1 1/2 teaspoons kosher salt or 3/4 teaspoons table saltground pepper
Preheat oven to 350.Heat oil in a shallow oven proof Dutch Oven (that will fit 1 layer of chicken in and has a lid).Sear chicken over high heat, skin side down.Transfer pieces to a bowl as you go.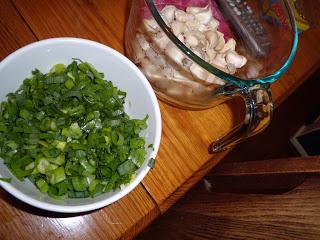 Once the chicken is seared, transfer them all to a bowl. Finely slice the scallions and put them in the Dutch Oven, and quickly stir fry them with the few sprigs of thyme.
Put 20 of the unpeeled cloves of garlic into the pan, top with chicken pieces skin-side up, cover with remaining 20 cloves of unpeeled garlic.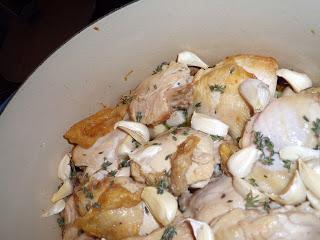 Add the wine to any oily chickeny juices that are left in the pan, swish around and pour it into the pan too.
Sprinkle with salt, grind pepper over the top, add more thyme.  Put on the lid and cook in the oven 1 1/2 hours.
enjoy!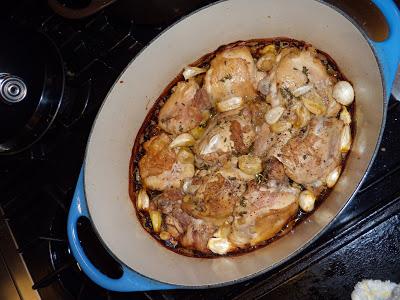 Another Buddy Fergurson approved recipe!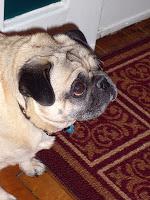 *If you are looking for a great winter warm-up soup idea, you might want to try Potato Soup with Caramelized Vegetables, another popular favorite that was posted on my blog last year.