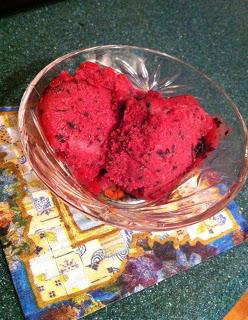 Since our household has been eliminating dairy from our diet, my husband has been on an experimental quest to find the perfect sorbet to replace the ice cream that we would normally eat on these abnormally hot summer days.  Blueberry seems to be the winner, hands down.  Thought I would share the recipe.  Enjoy, but I guarantee it won't last very long!

3 cups (1 1/2 pints) fresh blueberries, rinsed and drained (can use frozen unsweetened)1/2 cup water1 cup sugar2 tablespoons fresh lemon juice
In a blender or food processor puree the blueberries with the water until smooth.  Pour mixture into a large bowl.  Add the sugar and lemon juice.  Whisk to blend.Cover and refrigerate until cold, at least 2 hours.  Whisk the mixture to blend and pour into the canister of an ice cream maker.  Freeze according to directions.  Transfer to covered container and freeze until firm, at least 1 hour.