This is a continuation of my 'waterfalls' [situated in central and western NY]. Rochester is about 90 miles east of Niagara Falls [always a great place to take visitors]. Here are some images from a recent 'pilgrimage' I took along with my wife. Although there are fine views from both the USA and Canadian sides, our visit was across the border. For this I made sure we stayed in the hotel that was closest to the Horseshoe Falls, and to get a room with a good view on a high floor. As it turned out, some of my best shots were taken through our window.  
      The image below was taken from the promenade along the river, just near the point where it flowed over the falls' rim. The wind/rising mists made for the production of a nice rainbow.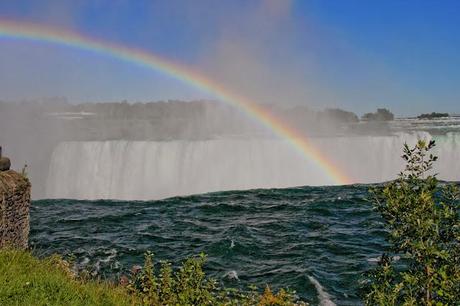 This was taken form the hotel room at dusk as the moon was rising.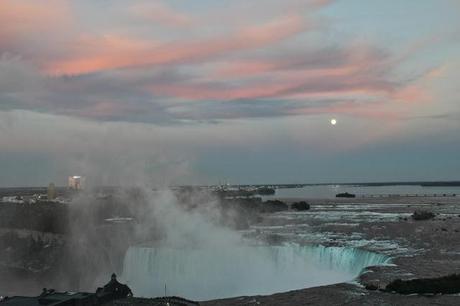 This was also taken from the promenade shooting back towards the Horseshoe Falls. The mist almost  completely shrouds one of the Maid of the Mist ships as it approaches the Falls.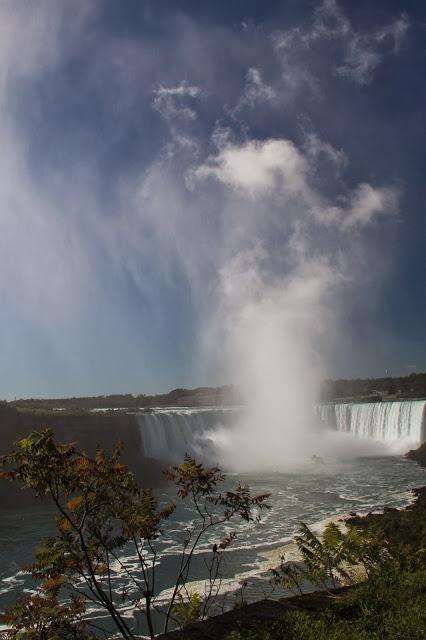 This panorama was also shot from the room. Seven separate images were 'stitched' together in Photoshop Elements v8. The American Falls is to the left [just to the right of the Rainbow Bridge]. The Horseshoe Falls are dead center. You can see the many tourists along the promenade, much of which was drenched by the blowing mist [which helped the formation of rainbows].