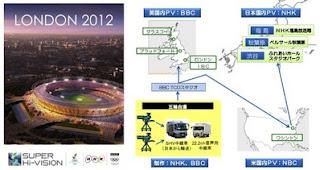 Last March, the Japanese broadcasting company, NHK introduced a 33-megapixel sensor capable of recording up to Ultra HDTV resolution (7680x4320 pixels) with a framerate that is also remarkable, 120 frames per second. 
This technology they call Super Hi-vision technology. 
This new sensor will be able to make the NHK broadcast a slow-motion with incredible detail of a sporting event for example.Now they have revealed plans Super Hi-Vision broadcasting for the London Olympics this year. 
They reveal the 4 points where the public can watch the action UHDTV 8K. 
Two of them are 520-inch projector in Shibuya, and 360-inch LCD Studio Park in Akihabara.
source