The Nexus 5 is finally available on Google Play. We have discussed its characteristics before but now we have some more info on the upgraded Android OS, KitKat as well as the price details of this most advanced smartphone from Google and LG.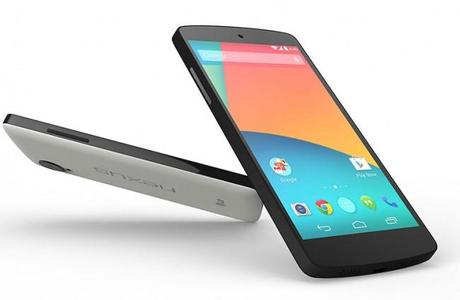 Google Nexus 5
Nexus 5
Nexus 5 was widely announced via many rumors that eventually were confirmed. After several months of waiting,the successor of Nexus 4 is finally available on Google Play and you can choose Nexus 5 in black or white. With the dimensions of 69.17 x 137.84 x 8.59 mm, weight of 130 grams and screen of 4.95-inches, Nexus 5 is the largest Google smartphone so far. Google offers two different storage capacity versions: the first 16 GB model is priced at 349 euros and while the second one, of 32 GB can be purchased for 399 euros. As mentioned before, Nexus 5  is running Android 4.4, the latest version called KitKat operating system. At the front of the device, you will find a 1.3 mega-pixel sensor and on the back an 8-mega-pixel camera with optical stabilization. Regarding the battery, it comes with 2300 mAh, which corresponds to 17 hours of talk time and 300 hours of standby.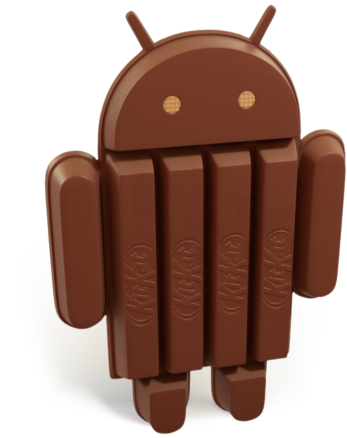 Android 4.4 KitKat
Android 4.4 KitKat
One of the main features of the latest Android platform is certainly its compatibility with the low-end devices supplied with not exactly  high end hardware. Here are the most important changes introduced by Android 4.4 KitKat :
Phone Application
The new phone application automatically highlights the contacts with whom you interact most. You can also find places and nearby people or users through Google services.
Print On the Move
You can print photos, documents and web pages directly from your smartphone or tablet, via any printer connected to Google Cloud Print or with those of the manufacturers who make available special applications on Google Play.
File Management
With applications like Quickoffice, you can open and save files to Google Drive , on other platforms, cloud storage or in the internal memory of the device. In addition, by having a quick access to recently used files, it is easier to send the documents which you are working on.
Posts
With the new Hangouts application, all SMS and MMS are managed together with the other conversations and video calls. In addition, the app lets you share your location and send animated GIFs.
Pedometers
This is also an included feature.  When you use applications for fitness on Nexus 5, the phone works as a pedometer. Android 4.4 KitKat allows you to monitor your physical activity in a way that does not affect the battery life.
Multitasking
Andorid 4.4 KitKat pushes the system performance to new limits, thanks to an optimized use of memory in all areas. This results in the faster execution of your favorite apps and an instant switch from one software to another.