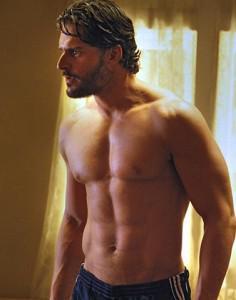 In a question and answer article from TVGuide.com, editors Adam Bryant and Natalie Abrams answer reader's questions about upcoming episodes or seasons on TV. One of the questions this week was about Alcide Hervaux in the new season of True Blood. The new season airs June 26th, and fans of the show can hardly wait.
Alcide VS Everyone:
The question that was asked was, "What can you tell me about Alcide in the new season of True Blood?" Adam responded by saying that Alcide is going to be butting heads against many people this season. A quote from Joe Manganiello, who plays Alcide,
"Alcide doesn't like vampires at all, so you'll definitely see that conflict. But he doesn't like werewolves [either]. He does like Sookie."
This will be an interesting season with Alcide, Bill Compton, and Eric Northman all vying for Sookie's attention and love.
Source: TVGuide.com- Mega Buzz
(Photo Credit: HBO)