If you were watching Game 5 of the NBA Finals on ABC, you were given a surprise treat: Jay-Z, in a three-minute long Samsung commercial, casually announced that he'll be releasing a new album in July.
Did you miss it? (I don't think anyone did.) Just in case, here it is:
It's fine that Jay-Z did a Samsung commercial; people do endorsements all of the time. However, what you don't initially get from the commercial is the tidbit that Samsung bought one million copies of Magna Carta Holy Grail for $5 apiece. This means that Samsung has already guaranteed the album platinum status. The full details as to the business side can be found on the Wall Street Journal's Speakeasy blog, who first pointed this out.
What changes this, though, is how Jay-Z has embraced his atypical way of doing things – including probably destroying the Billboard charts. Mr. Carter, who rarely graces Twitter (or any social media) with his presence, let loose a multi-tweet diatribe as to what the "new rules" are in the game. He acknowledged that even he isn't sure Billboard will acknowledge the million-selling mark for his album, while also giving shout outs to Kanye, J. Cole and Wale.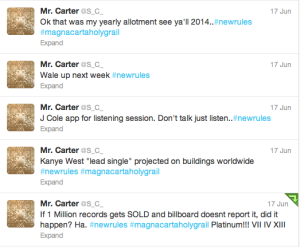 Jay-Z's #NewRules
It seems to me that Jay-Z's "new rules" fly in the face of Kanye's. At Governors Ball, Kanye spoke to the importance of music for the fans, the people who really care. He ranted (though briefly) about how album sales are no longer important, and he went so far as to explain that radio is irrelevant to him. He did nothing typically, and he's still going to reap rewards for success.
What Jay-Z is doing certainly isn't typical, either. However, where Kanye has moved away from the corporations (just listening to Yeezus proves his growing inaccessibility as a selling point for any conglomerate), Jay-Z is going to them. It's almost mind-blowing that Jay-Z allowed a huge corporation to buy his platinum status. With that move, Jay-Z has basically made the mark pointless – how many others will soon be able to do that? How many artists, especially those who are already major names, will use that as an easy out to guarantee sales? Samsung's competitors have their work cut out for them, and services like iTunes certainly have to be eyeing the possibilities for the future.
Will Samsung's users be early adopters of Magna Carta Holy Grail? Will one million Samsung users really be the first to download the album and embrace it? Will it make any difference? We'll find out in a few short weeks just how much the new rules mean. Perhaps most importantly, we'll see the industry's reaction, and we'll see if the #newrules stick.
Discuss.