New directions for New York's oldest orchestra.
by Paul J. Pelkonen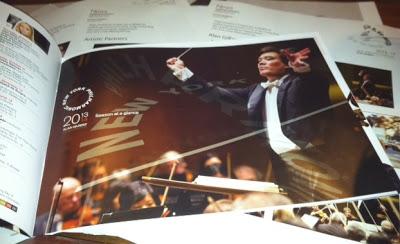 Photo (by the author) of this year's New York Philharmonic 2013-2014 season announcement press packet. 
Original photograph by Chris Lee © 2013 The New York Philharmonic.
The
New York Philharmonic
announced its 2013-2014 schedule this morning at the
WQXR
Greene Space. Judging from the press conference (and after a quick trawl through the all-important Season Chronicle included in this years packet), 2013-2014 looks to continue on the path forged by Alan Gilbert in his first four years as music director. However, America's oldest orchestra will also strike out in bold directions, exploring new music, film music, and (once more) the Beethoven piano concertos.
That last will be the concern of new Artist-in-Residence
Yefim Bronfman
, who takes the torch from New York's own Emanuel Ax. Mr. Bronfman will present a complete
cycle of Beethoven concertos
at the very end of the season (June 11-28) contrasting these five heroic works with new compositions from Anthony Cheung and Sean Shepherd, co-recipients of this year's Kravis Prize.
Another highlight: the
Philharmonic Biennial
, a ten-day festival (May 29-June 7) held in cooperation with The Juilliard School, the 92nd St. Y and the Orchestra of St. Luke's. Details are still sketchy (and the program is mostly unannounced) but these concerts will focus unflinchingly on cutting-edge new music in a manner guaranteed to make conservative concert-goers wince.
What's interesting next year is a trend toward younger composers and conductors and a move toward the orchestra's future. Absent: Kurt Masur, Lorin Maazel, any operas and the work of puppeteer Doug Fitch. At the very least, this next season will be different.
Here's ten notable programs from next year's Philharmonic schedule. Mark your Google calendars.
Sept. 20-21, 2013: 
To Infinity...and Beyond. 
Film music? The New York Philharmonic revives the idea of combining an orchestra with the moving image with a performance of the complete score to Stanley Kubrick's 1968 sci-fi extravaganza. That means the musicians will play works from both Richard and Johann Strauss, along with the experimental compositions by György Ligeti that accompany the film's most brain-melting moments.
Oct. 3-9:
Meet Mr. Frieze
The Beethoven
Ninth
is an important work for any music director. Here, Alan Gilbert offers his first take on the marathon symphony with its famous choral conclusion celebrating Joy in all its aspects. It's paired with
Frieze
, a new work by British Marc-Anthony Turnage.
Oct. 17-19:
Revolution Calling
Semyon Bychkov's Oct. 2012 appearance with the Met Orchestra was one of last year's best concerts. Here, the Russian maestro pairs Rachmanininoff's beloved
Paganini Rhapsody
with Shostakovich's
Symphony No. 11: The Year 1905
, a blow-by-blow account of the Russian people's first attempt to overthrow Tsar Nicholas II.
Oct. 30-Nov. 5:
Finnish What You Started
At last! Esa-Pekka Salonen's epic
Violin Concerto
gets a New York hearing, framed by Ravel's
Ma Mere L'Oye
and the soul-stirring
Fifth Symphony
by Mr. Salonen's countryman Jean Sibelius.
Nov. 21-23:
A Spring in your Step
In the middle of all the hoopla over Wagner and Verdi's 200th birthdays, the New York Philharmonic remembers that 2013 is also the centennial of one Benjamin Britten. This composer focuses on the composer's work and features his lush
Spring Symphony
and an appearance by tenor Paul Appleby.
Dec. 12-14:
A Hero's Exit
Glenn Dicterow
is marking his last year as Concertmaster of the New York Philharmonic with a series of concerts showcasing his solo violin. The one to hear is the difficult
Ein Heldenleben
, paired here with the Beethoven
Symphony No. 8.
Jan. 2-7, 2014
Meet the Residents
New music rules as artist-in-residence Yefim Bronfman has a second bout with Magnus Lindberg's thorny Second Piano Concerto. The concerts also feature
Rapture
by current composer-in-residence Christopher Rouse, which has nothing in common with a certain hit single by Blondie.
March 27-29:
The Dude Abides
Gustavo Dudamel returns for three subscription concerts with the Philharmonic, featuring the three completed movements of Anton Bruckner's heaven-reaching (but unfinished)
Symphony No. 9
. Also on the bill:
Orion
, an otherworldly tone poem by the late French Canadian composer Claude Vivier.
May 5 (at Carnegie Hall):
A Matter of Death...
This is big. Massively big. Christopher Rouse's
Requiem
is the composer's self-described
magnum opus
, requiring huge orchestral and choral forces to set the Mass for the Dead. This performance opens the 2014
Spring For Music
Festival at Carnegie Hall, and is one night only.
May 15-17:
...and a Matter of Life
This is bigger. You just won't believe how vastly, hugely, mind-bogglingly big it is. In fact, the six-movement Symphony No. 3 by Gustav Mahler holds the Guinness record as the longest symphony in the standard orchestral repertoire. It's six movements. Mahler describes the creation of Earth, the rising of the mountains, and the arrival of Spring. (And that's just the first movement.) Bernard Haitink conducts. He'll be 85 when these concerts roll around.