Rufus Wainwright's opera comes to Brooklyn.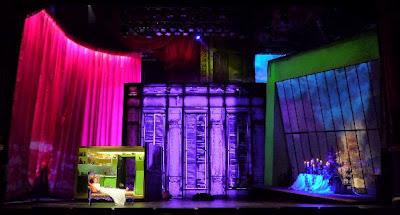 A scene from the 2009 Manchester premiere of Prima Donna. Photo by Peter Mumford.
The second production in the resuscitated New York City Opera's 2012 season is Rufus Wainwright's Prima Donna, the story of an aging diva struggling to mount a comeback, or at very least come to grips with the twilight of her career. Melody Moore, last seen in the title role of Die Liebe der Danäe at Bard SummerScape sings the title role.
City Opera has a proud legacy of innovation, having brought New York such works as Philip Glass' Akhnaten, Anthony Davis' X: The Life and Times of Malcom X and Richard Rodney Bennett's The Mines of Sulfur. This is the first new piece brought to the stage by the company since Séance on a Wet Afternoon by Stephen Schwarz, which was met with a mixed reception in 2011. Four performances are scheduled at the Brooklyn Academy of Music's Howard Gilman Opera House.

Prima Donna is a two-act work with a libretto (co-written by the composer) that operates on several dramatic levels. On the surface, it is the story of Régine St. Laurent, a Paris-based opera singer whose voice and career have faded. She is determined to mount one last comeback, but age and her complicated past may have finally caught up with her. The work also has an opera-within-the-opera, Aliénor d'Aquataine, featured in the second act.
Mr. Wainwright's opera was originally planned for the big stage at the Metropolitan Opera. But in 2008, Met general manager Peter Gelb insisted that the Canadian composer/songwriter create his work in English. Mr. Wainwright walked across Lincoln Center Plaza, and negotiated to have the U.S. premiere of his work at the New York City Opera.
Recording Recommendations: Prima Donna bowed in 2009 at Manchester, and has been performed at the English National Opera and at the Luminato Festival in Toronto in 2010. But as of yet, there are no CD or DVD performances. There is, however a documentary, Prima Donna: The Story of an Opera, chronicling Mr. Wainwright's creative process. I haven't seen it, but it might give some idea of what the piece is like.
Rufus Wainwright has a discography of six studio albums and two live albums. For the completist, a boxed set is available.