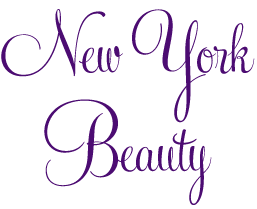 What a better way to come back from our days off than with a lovely new post from our beauty girl friday, Nancy Dawson of BRIDEface.  Take it away, Nancy!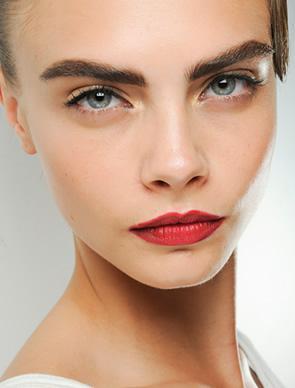 New York Fashion Week is always an inspiration, and it's fun to try to determine which makeup and hair looks will be the most influential.  The makeup for JasonWu (keyed by Diane Kendal) was inspired by Helmut Newton and featured super strong, masculine brows, and a bold, ombre-red lip.  The eyes were gilded in yellow shimmery eyeshadow and a slash of black liner.  The result was a very fierce, modern day Robert Palmer Girl edginess. 
The lip was achieved by layering several variations of red: firstly, a dark burgundy lip liner, feathered inwards.  Gradations of different reds were applied, ending with a rather neon hue in the center.   The best way to get brows of this magnitude is by layering pencil and powder; literally building the brow up.  I like Maybelline define a brow and Laura Mercier's brow duo.  The lids could be Maybelline Eye Tattoo in Bold Gold, paired with a black liquid liner such as the Hourglass pen.  And, finally the skin is key to this look; a very ethereal glow on the cheekbones that you could do with a  shimmering face oil such as Nuxe Huile Prodigieuse.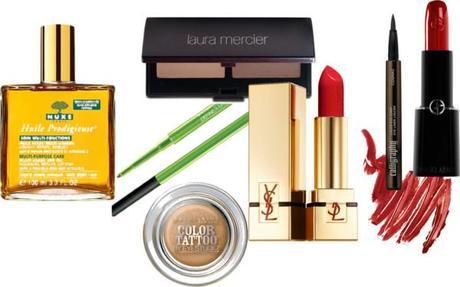 nyfw by nannobanan featuring Laura Mercier Makeup



Yves Saint Laurent Lipstick    yslbeautyus.com

Laura Mercier Makeup
saksfifthavenue.com

Napoleon Perdis Lip Liner
nordstrom.com

Maybelline Eyeshadow
walmart.com

Giorgio Armani Lipstick
barneys.com

Hourglass Cosmetics Liquid Liner
barneys.com

Nuxe Huile Prodigieuse Multi-Usage Dry Oil
gracioushome.com
All photos courtesy of Polyvore and Style.com.