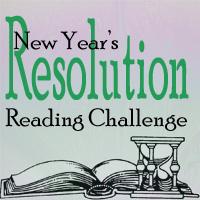 Welcome to the Wednesday link-up for the New Year's Resolution Reading Challenge. Do you have a review or progress report on your blog? If so, add it to the link list below. If not, report your progress in the comments.
The New Year's Resolution Reading Challenge runs for all of January, so there's plenty of time to join us!
Join us for another Twitter Chat tonight to talk about goals and books. We'll be chatting at 9PM Eastern / 8 Central / 7 Mountain / 6 Pacific / 5 Alaskan / 4 Hawaiian. The hashtag is #WSchat.
As for my progress…
Be a Better Reader. I finished Reading Like a Writer by Francine Prose late Monday night. Watch for a review later this week. I am reading differently. Unfortunately, I'm not reading the sort of work, at the moment, that benefits from close inspection of language.
Be Happier. I'm half-way through The Happiness Project by Gretchen Rubin. See my earlier post for answers to discussion questions from chapters 4, 5, and 6.
Be a Better Writer and Be More Creative. I haven't started The Memoir Project by Marion Roach Smith or The War of Art by Steven Pressfield – but I'm really looking forward to them. Which is part of the fun of this challenge!