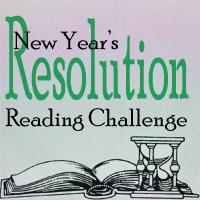 I hope every one had a lovely day yesterday, whether it was in celebration or relaxation.
Today is the official start of the New Year's Resolution Reading Challenge, running until January 31. If you want to sign up, you can do so here: New Year's Resolution Reading Challenge. But you are welcome to participate without signing up and there are several ways to do so:
Review books on your blog that contribute to your New Year's Resolutions and link them up below. Be sure to visit the other participants' posts to get ideas and offer encouragement.
Join the group on Facebook to discuss resolutions and books: New Year's Resolution Reading Challenge Group.
Participate in the Wednesday Twitter chat. The first one is tonight! Join us at 9 Eastern / 8 Central (for international folks, that's 2:00 AM GMT according to this Time Zone Converter.) I'll post some tips about how to participate in a Twitter chat later today for people who are new to that format.
Read along for The Power of Habit by Charles Duhigg. This officially starts on January 2, but I know some people have started reading already.
I'm looking forward to seeing what every one comes up with as resolutions and what books we can find together to support them.