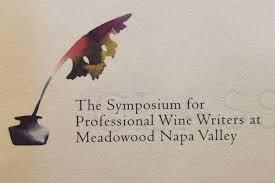 Hope your holiday season with family and friends continues to shine brightly…in anticipation of the coming New Year, I thought I'd share some important news about my own 2017 :
Firstly, I've been selected to attend the 2017 Symposium for Professional Wine Writers at Meadowood Napa Valley from February 21 -February 24, featuring keynote speaker Kevin Zraly.
This prestigious event draws the wine industry's most respected wine book authors and editors, wine magazine writers and critics, newspaper wine columnists, and other editorial wine content creators to Meadowood Napa Valley and The Culinary Institute of America at Greystone for four days of lectures, panel discussions, group and individual writing sessions, wine tasting and fine dining. Quite an honor for my writing to merit entrance – I look forward to sharing the event with you.
In addition, some of you may not be aware that I spend a good part of each year in Northern California, where my husband specializes in migrant care – caring for the people who tend the grapes that make the wine that I write about. All that changes in January 2017, when we move to the Santa Cruz, CA. community full-time, where he'll attend the underserved there, including the homeless.
Also, expect some rebranding in 2017 that reflect my ongoing commitment to educating, entertaining, and inspiring wine lovers worldwide.
Wishing you peace, prosperity, and treasured memories in 2017 – hopefully shared with those you cherish over a glass of wine  – the redThread™ that binds us all. Cheers!
Copyrighted 2016 binNotes | Red Thread™.  All Rights Reserved.