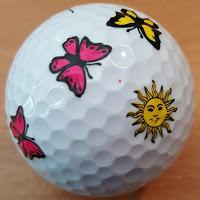 Did you know that the USGA Rules of Golf state, "Each player should put an identification mark on his/her ball"? Although there is no limit on the amount or type of marking, it should be unique to you.
So, how do you mark your golf ball?
Does your mark have a psychological meaning behind it such as with Jordan Spieth who places a "Z" on the blank side of the ball to remind him to "zero in" on his target? Or, do you have a more artistic flair and draw a smiley face like me to remind you that golf is just a game and it is a beautiful day so have fun!
Marking your golf ball should probably have some sort of intent attached to it. Whether it is solely for recognition or brings your mind into focus, just like every shot should have a purpose, so should every marking on a ball offer your mind an objective.
TheGrint.com says to consider creating a golf mark for one of these three uses:
1. Alignment
2. Instruction
3. Inspiration
That being said, while walking the aisles at the Myrtle Beach World Amateur Golf Tournament's 19th hole, I came across companies that are offering players more choices when it comes to creating a unique look for that tiny orb which we hopefully will smack down the middle of the fairway.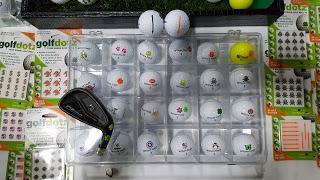 GolfDotz is a type of transfer that bonds with the skin of the ball when pressure is applied.
According to the company, these "stickers" do not affect the flight or roll of the ball, have a long, sticky life (probably longer than your ball will stay with you) and have the USGA seal of approval.
If you are really creative, try adding a few dotz to your golf club too (as seen in the photo above). The average package costs approximately $5.99 and comes with twenty-four dotz on two sheets.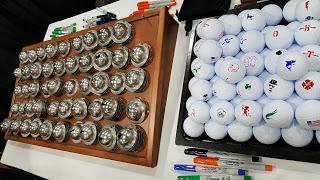 Tin Cup Ball Markers are just what the name implies; these small, semi-circular, metal ball markers cradle your ball so that you can get a straight line (with your initial) or create custom designs and colors using a Sharpie; you are limited only by your imagination.
Tin Cup gives companies and tournaments free reign with their ability to engrave any design from logo to special sayings like "Low Gross Winner". Average price for a single Tin Cup is $19.95.
We once asked on Golf for Beginners, "Where Do You Place Your Golf Marker" when not in use. We now ask what special markings do you place on your golf ball to differentiate it from your playing partners?
Tag us on Twitter @Golf4Beginners with photos and feel free to comment below on our golf blog.