Researchers from the UK are currently developing a "smart diaper" that will alert caregivers when an elderly patient has soiled their adult diaper. The Sensidry System features a moisture-sensitive strip that attaches to a transmitter inside the patient's diaper. When the diaper becomes wet, an electronic signal is sent to a receiver, which then sends a text message to the caretaker.
According to creator Avtar Chagger, the goal of Sensidry is to help patients maintain their dignity.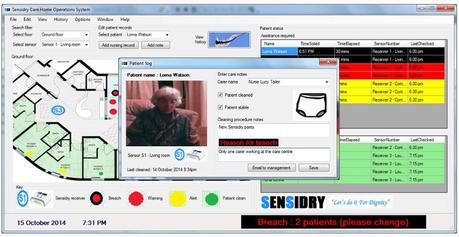 "We all realized that there is nothing worse for a human being, especially in mature years to be forced to lie in their own waste for periods of time, in between the changes. We all decided that application of this technology in the care sector we will implement first," Chagger was quoted in a
press release
.
"Incontinence can be intensely embarrassing because going to the toilet is something we learn at such a young age, and losing that control can be degrading. It is therefore difficult to accept help in this intimate area of a person's life, particularly from someone who is close to the person," Chagger continued.
With the high amount of elderly residents in nursing homes and facilities, it can be difficult for caregivers to check for soiled diapers on a regular basis. Adult diaper users who are incapable of changing themselves are at high risk of developing diaper rashes and MRSA (bacterial infection). A diaper sensor will not only help caregivers better care for their patients, but also help cut down on diaper waste.
Chagger has worked Coventry University Health Design & Technology Institute (HDTI) to test out the Sensidry System, which may be out on the market by next July. Researchers are planning on launching a crowdsourcing campaign to raise funds for product development and testing.
Photo Credit: sensidry.com