Since the beginning of term, the axis of Isobel's education has shifted – and with it, so has the focus of those working with her.
For the past month, Isobel has been attending PACE thrice a week. Monday and Tuesday mornings is one-to-one time, while Fridays mean mini-group sessions in Chesham.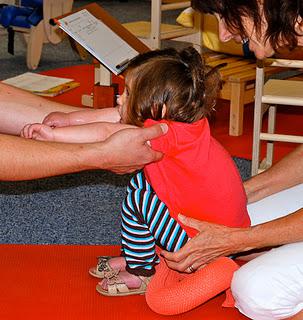 Already, progress has surged. Isobel still does lots of standing, walking and sitting exercises, but we are now seeing a more independent response in her actions. Holding onto a wooden ladder with both hands while sitting on an inflatable peanut, she is starting to pull herself up to standing, and I have witnessed her using her right arm to help prop herself up on a table while she reaches across for a toy.
Isobel's legs - such amazing long legs! - are getting very strong. If you lie her face-up on a wedge and place her feet against your chest she will push away with such excitable force the wedge shifts - and she often won't wait for the instruction either. Brush her feet on the carpet while holding her by the armpits, and she'll stand immediately. Sometimes I find myself using the lightest of touches to help her keep her balance, so pleased is she to be in that position - and so determined is she to achieve her goal.
She is also learning to push up from both a
 prone
 and sitting position with her arms, and to pull herself to the far end of the table she is lying on from both sides. In walking practice she is beginning to take steps forward, and when she has her feet stamped for her while lying
supine
, she'll lift, then drop her left foot, as if to check that's what she's meant to be doing. Ultimately, Isobel is clocking on – and it shows.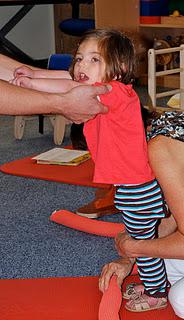 But while her PACE sessions have increased, the NHS therapies have subsided. Helen no longer does physio with her, but instead supplies 
orthotics
 in liaison with PACE.
Both of the SALTs (speech and language therapists) who have worked with her on her bilingual communication for the last year have already handed over to PACE's own SALT, while I am due to hear from the community dietitian who replaces the one responsible for the quarterly NHS feeding clinic. A local portage worker still visits Isobel at home, but on a bi-monthly basis rather than fortnightly.
Frankly, I am relieved. Although the NHS therapists have been absolutely fantastic – indeed I am reluctant to let many of them go – the various pieces of advice they gave in correlation with the then twice-weekly homework set by PACE was getting confusing. Now, with all the changes in place, a more coherent, holistic programme is forming.
Elsewhere services are also changing or emerging, in response to the impending birth (covered in a previous post,
A shift in the family dynamic
). Occupational therapy services have cranked up a gear with the introduction of a wheelchair service looking into buggy alternatives – we are considering a double buggy with one seat adapted for Isobel.
I have respite care two half-days a week, and am in the process of arranging more for around the time of the birth. Each day, as the due date draws closer, I am increasingly conscious of my fast-diminishing agility, and can't wait for the pregnancy to end. This is hardly surprising: a recent 36-week scan indicated a large baby, and I am to go in hospital for my induction on 21st October – at 39 weeks - so even with Miles on paternity leave, I need all the help I can get.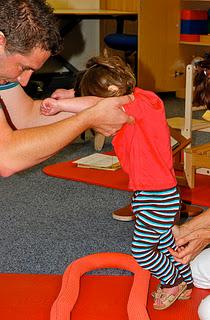 Things are coming together at last, and not a moment too soon. Last week – much to our delight - Isobel finally got a place at a local mainstream nursery. At the time of writing Miles and I had just attended a transitional meeting, where nursery staff met some of the professionals currently involved with Isobel and discussed how they could accommodate her needs. The transition could be as much as seven weeks due to the training, preparation and equipment that could be supplied.
So far the nursery staff's attitude has been nothing short of welcoming, while the place itself doesn't feel too busy; and even better, it's easy to access from where we live. In other words, as a mainstream setting, it's just ideal for Isobel.
One more crucial part of the transition to nursery is yet to be completed. At present Isobel is undergoing a
SEN statementing
process, which culminated at the end of August in her paediatrician and therapists – including PACE - submitting progress or developmental reports.
Essentially, this will lead soon to a decision over which special-needs nursery and school Isobel should attend. Naturally, we want her to graduate to PACE's own school, which caters for children with disabilities up to age eight.
Of course, there are no guarantees, especially in an age of sweeping governmental cuts. Last month two children were sent to the state-funded special-needs school, despite recommendations from PACE, and there are concerns that the same could happen to Isobel.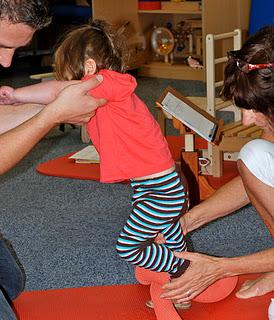 That non-state-funded specialist centres - like PACE - are at the mercy of such statementing decisions is a matter of fact. But that doesn't necessarily imply a low opinion by the local authorities. Rather, they revere PACE highly, recognising that their passionate commitment to high-quality and innovative Conductive Education – and the long-term benefits that can be gained from it – is enough for them to be raising the funds by themselves.
Which neatly brings me to the matter of our fund-raising campaign. Even though Isobel's SEN statement has not been finalised yet, we have to push again for our £10,000 target by April next year.
Don't get me wrong; I have nothing against the local state-funded specialist school. It is just that we are seeing a very real glimmer of what Isobel can achieve in her PACE sessions, and it would be cruel to rob her of the chance to see where that leads. Clearly, the consistency and dedication of the staff is paying off, and Isobel herself has built strong rapport with them, which is surely enhancing her learning.
Indeed, with our permission PACE has made her a case study, intending to create a year-on-year video progress record as she goes along. It's good for us, and it's good for everyone else too, especially the donors who have kindly supported our campaign.
So dig, dig deep for Isobel! Let's all push together for her to continue attending PACE and enable her to reach her full potential. She is such a bright, sociable little thing who clearly relishes being surrounded by professionals who believe in her and who she knows will boost her confidence and learning.
To donate, just click here:

Photos courtesy of PACE