I'm still amazed that I can wear colored jeans.
Really.
I haven't worn anything but black or dark blue jeans for years and suddenly 2012 has me conquering my fear of color and wearing all sorts of styles I never thought I could pull off.
But here I am, just a week ago at the Top Latina Blogger Retreat in Washington, DC (I was one of 70 selected to attend...woo hoo!) wearing...polka dots and brights. Together.
It may not be anything out of the ordinary, but I've never worn any kind of dots! I have always associated polka dots with older ladies, my Oma in particular and it wasn't on my list of wardrobe essentials.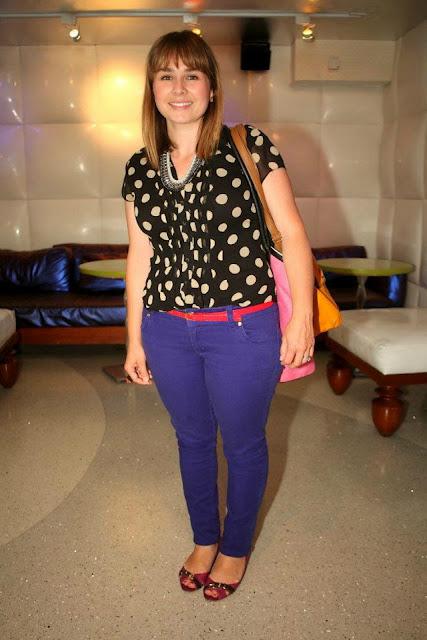 Photo: Eventos VIP Pass Andy Ramírez
So how did I end up wearing it? A few weeks ago my mother was clearing out her closet and making her donation pile when she handed it to me. 
I may have actually jumped away from it. In fact, I sneered at it. I had seen it in her closet for years and I was not about to make it mine. But she insisted I try it on (as mamás do) and what do you know... it fit (it's a size 6 so that was amazing, but mind you the bottom button barely closes) and it didn't look bad at all. I stared at myself for a few minutes, then I thought, it's kind of cute and its fitted so it accentuates my new waist. 
And that's when the granny dots, I mean polka dots won me over!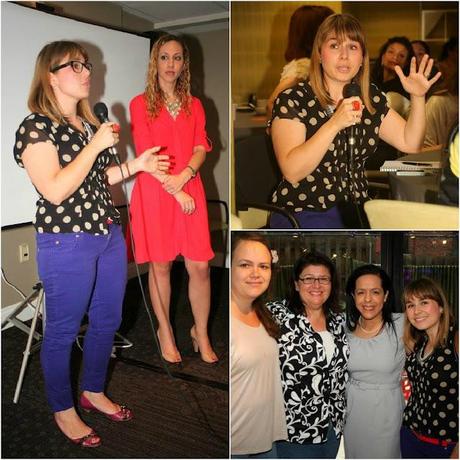 Photos: Eventos VIP Pass Andy Ramírez
As far as the jeans go, these were the first ever pair of brights I bought which I have worn many, many times and shared on this blog. Now with my 20 lbs weight loss, they are sagging a bit and I just have to make sure to wear a belt that will actually HOLD them up. 
At the retreat I wore the blouse on the first night with a dark blue pencil skirt and then again on the last day. I mean, if it ain't broke...right? I had a good look going for me.
Nothing from this look is new, and of course, given my six years in the UK most of my styles have a mix of the British High Street and US retailers.
Jeans - Primark as seen here Flats - Marks & Spencer as seen here Blouse - my mamás closet "vintage" Macy's Belt - Primark as seen all over this blog Necklace - Stella & Dot Femme Fatale from stylist Kristin Biggs
And if you read my post about learning to accept my body (if you didn't you should) you will know why styling is very important for me. I am at a place in my life that I only thought was possible for the single and super thin. I never, ever imagined I'd be sharing my looks and encouraging others, especially mothers to dig through their closets, put together new looks and take fashion chances no matter what your size or budget. 
So yes, these "Ah Ha" style moments are a big deal for me. I do hope you enjoy and take some inspiration from them! And if you want some help or have a question let me know - I'm also on Facebook where I post daily pictures and other ideas that don't make this blog.
Have you discovered a new look lately? Are you wearing something you NEVER thought you could pull off and now you are strutting your stuff all over town? 
Sharing my look with Transatlantic Blonde