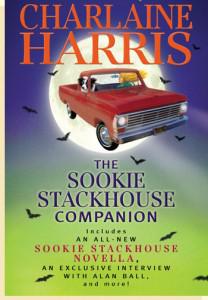 Fans of the Sookie Stackhouse books by author Charlaine Harris will be excited to hear that there are not one, but TWO new Sookie books coming out this month!
The first was already released on August 2 and goes by the title of Home Improvements (Undead Edition). It is an entirely new short story based on the Southern Vampire characters. This story is one of many in this collaboration between authors on the theme of 'home improvements.' Apparently, Sookie finds more than she bargained for in the tale "If I Had a Hammer", when she helps Sam renovate Tara's new house. In fact, they find a bloody hammer in the walls!
The second Charlaine Harris book will be released on August 30, and is entitled "The Sookie Stackhouse Companion". This book  includes a new Sookie novella as well as an interview with Alan Ball. It also lets you tour Bon Temps, get the best recipes in the area (including some by Caroline Bellefleur) and test your knowledge of the Sookieverse with trivia questions.
Both books can be purchased from all good book stores as well as online via retailers such as Amazon.
Sources: Charlaine Harris Official Website – News
Amazon.com - The Sookie Stackhouse Companion and Home Improvement (Undead Edition)