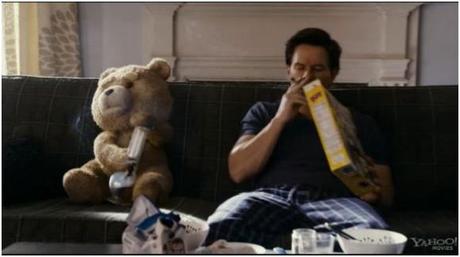 A new red band featurette for Seth MacFarlane Live Action/CG-Animated Comedy Ted has gone online.
The film is directed by Seth MacFarlane, scripted by Seth MacFarlane, Alec Sulkin, Wellesley Wild and stars Mark Wahlberg, Mila Kunis, Joel McHale, Seth MacFarlane, Giovanni Ribisi, Patrick Warburton, Laura Vandervoort, Jessica Stroup. 
Universal Pictures brings Ted to theatres on June 29, 2012.
Watch the new red band featurette of 'Ted'.
Summary:
"Family Guy" creator Seth MacFarlane brings his boundary-pushing brand of humor to the big screen for the first time as writer, director and voice star of "Ted." In the live action/CG-animated comedy, he tells the story of John Bennett (Mark Wahlberg), a grown man who must deal with the cherished teddy bear who came to life as the result of a childhood wish… and has refused to leave his side ever since.