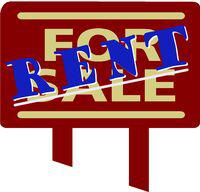 BUY, FIX and FLIP has been a real estate investor trend for years.
It worked well when property values were climbing. There was money to be made not only on the renovation itself, but also on the time it took to complete the renovation... property values were going up every month.
When the market crashed and there was an oversupply of homes available at rock bottom prices real estate investors again found an opportunity to fix and flip the properties they bought at fire sale prices... the federal tax credit stimulated prices to rise a bit again and created a ready market of first time homebuyers scrambling to find homes in good condition.
But when the market dropped again after the end of the tax credit a new real estate investor trend emerged... instead of buy, fix and flip... the new trend is buy, fix and RENT.
With so many previous homeowners unable to buy again for several years due to foreclosures and short sales, there will be a big demand for rental housing until those who have been through foreclosures and short sales can buy again... if they even choose to do so.
When the demand for homes for sale is again more favorable than the rental market investors with rental houses will be in a good position to sell and capitalize on that market if they choose to do so.
Sharlene Hensrud, RE/MAX Results - Minneapolis - St. Paul Buyer's Agent