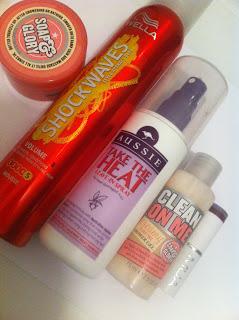 Hi guys! 
This weekend I was in my local shopping centre, getting my bloggers secret santa shopping started! I ended up picking up a few bits and pieces for myself, I couldn't resist. Believe it or not I have never had any Soap and Glory products apart from the Sexy Motherpucker Lip Plumper when I was younger. I decided that I would pick up some of the travel sized ones in Boots to start with. I picked up the Righteous Butter, I have used a small amount and I do think it moisturizes well and has a pleasant smell. The thick consistency of this product works with my skin well as I have quite dry skin around my hands and elbows. I picked up this travel size tub for £2.50 in my local Boots. I also grabbed the Clean On Me shower gel whilst I was in store again for £2.50. I have yet to try this product, but the scent is similar to the Righteous Butter.
 I also popped into Superdrug to look at the MUA range as I usually do. I noticed that MUA have started stocking matte lipsticks, which caught my eye. I picked the Matte Wild Berry shade, which is a deep plum color. To my disappointment the minute I opened this lipstick the whole product fell out of the plastic casing. I have managed to doctor it back to the way it should be, although I may purchase another to do my in depth review. When I swatched the one I have currently I don't think it applies like a lipstick at all, it's more sheer and balm like than your average matte lipstick. The new range of lipsticks are £1, like most of the MUA products. 
I have been looking for a mousse to try for the past few weeks and I noticed this in my local Superdrug for £2.85. I have used this product since purchasing it and I am in love with it. I don't use it every time I dry my hair, if I am going out I like to apply this to towel dried hair before blow drying. It has little to no scent and doesn't make my hair sticky or leave any residue after drying. Whilst in Bodycare (local health/beauty store) I picked up the Take The Heat Leave in Spray by Aussie. This was an impulse purchase, to be honest I just picked it up to give it a try. It's designed as a heat protector to stop your hair being damaged. I paid £2.99 for this, which I think is a bargain for an Aussie product. I think this bottle has actually been repackaged in the last few months, but this is the old packaging which is why I managed to get it cheaper. 
Thanks for reading, See you soon!

xx