By David Himbara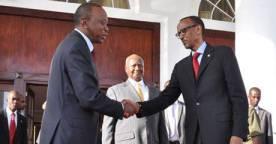 Presidents Uhuru Kenyatta [Kenya] – Joweri Museveni [Uganda] – Paul Kagame [Rwanda]
The building of the rail and pipeline makes perfect sense – as the Dar-Kigali railway did when it was initially floated 13 years ago. Goods to and from Rwanda become hugely expensive because of road transport costs. Moreover, political instability in Kenya in 2008 showed the unreliability of depending solely on the Kenya route and the port of Mombasa.
These are the very reasons that President Kagame rightly cited when he embarked on the Dar-Es-Salaam-Isaka-Kigali rail link. It is therefore important to draw lessons from the rail before prematurely celebrating the pipeline. Here are the highlights:
* Early 2000s, President Paul Kagame moots the idea of building a rail line linking Rwanda to the Tanzanian rail network to the Indian Ocean port of Dar es Salaam; He sees Burundi as part of the plan;
* 2005-2006 – Kagame persuades the African Development Bank (AfDB) to co-finance the survey of the rail route that would link Isaka, Tanzania to Kigali/Bujumbura; AfDB was to have covered 90%, with Rwanda and Tanzania covering 10%;
* 2007 – a leading American rail builder and operator, Burlington Northern Santa Fe (BNSF), is recruited by the Rwandan President to assess the viability of the project;
* 2008 – political unrest in Kenya severely disrupts goods to Rwanda, Burundi and Uganda – thereby confirming the need for the Rwanda-Tanzania line that would allow rail transport to bypass Kenya;
* 2008 – President Kagame announces plans for BNSF to build the Isaka-Kigali rail;
* 2009 – Kagame officials boast to FastCompany in "Rwanda Rising" that not only is BNSF's design of the rail was already advanced, potential inventors to finance the project were already found.
2009-2013 – Kagame's silence on Dar-Es-Salaam-Isaka-Kigali-Bujumbura rail is deafening. Not only is the rail forgotten, Kagame becomes arch-enemies with President Kikwete through whose territory the rail would go through.
So now, here we are in 2013, and President Kagame is announcing a pipeline and rail from Mombasa to Kigali. Why now? Where will he find money to build these things to Rwanda – he just went into US$400mil debt to complete his Kigali Convention Centre. Is the Dar-Kigali rail dead, or will the Kenyan options be developed at the same time?
Don't bank on any of these half-cooked and hasty pronouncements. They may go the same way as Kagame's Kigali-Dar lunatic express – dead things that are permanently on the drawing board.