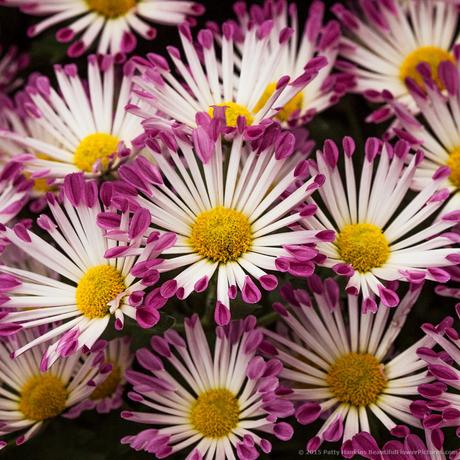 Yolaporte Chrysanthemums © 2015 Patty Hankins
I've recently added a new photo – Yolaporte Chrysanthemums – to my BeautifulFlowerPictures.com website.
My new Yolaport Chrysanthemums photo is actually a re-edit and re-crop of a photo I took a few years ago.  I'd photographed this group of spoon mums with an irregular space around them – and then couldn't figure out how I wanted to share them. I didn't think the photo would work as a square crop – since it's a bunch of little round flowers rather than a single big flower (many of them round) in the center of the frame. But as I thought about the Yolaporte Spoon Chrysanthemums I realized it was the overlapping petals and repetition of the shape the I found interesting to photograph – not just a single Yolaporte Chrysanthemum. Once I'd figured out what I had caught my eye about the scene – I knew how to crop and edit it – so I could share it with you.
Yolaporte Chrysanthemums  is available as a matted print on my website.