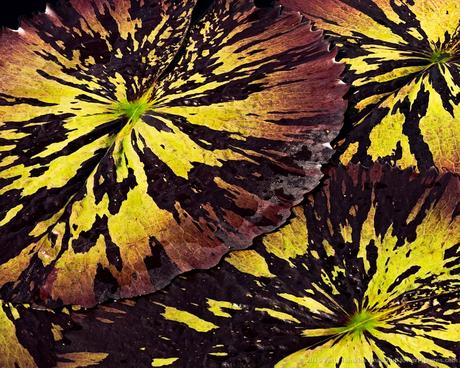 Water Lily Leaves © 2015 Patty Hankins
I've recently added a new photo –  Water Lily Leaves – to my BeautifulFlowerPictures.com website.
I usually photograph water lilies several times a year at gardens in the DC area. And when I do – I usually compose my photos with one of the water lily blossoms as the main subject of the photo. One day while photographing the flowers I happened to notice the wonderful patterns and textures in the leaves of the water liles and started photographing them. The more I looked at the leaves, the more fascinated I was by the combination of colors – bright green in the center surrounded by yellow green with dark brown patches on the leaves edged with a red brown trim. How could I not photograph them? and then share this wonderfully different view of water lilies with you.
Water Lily Leaves is available as a matted print on my website. It available in two sizes – matted to 11X14 inches or matted to 16X20 inches.
Like this? Share it...

0
0

0

0

0