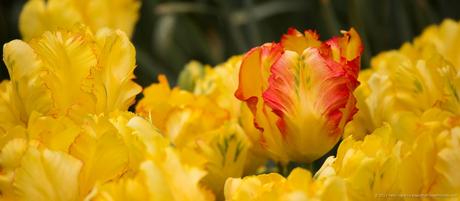 Texas Gold Parrot Tulips © 2015 Patty Hankins
I've recently added a new photo – Texas Gold Parrot Tulips – to my BeautifulFlowerPictures.com website.
When I first spotted the Texas Gold Parrot Tulips at a local garden – I knew I had to photograph them! Most of them had bright yellow ruffled petals with just a hint of red around the edge of the petal. And then I spotted one with so much more red than any of the other tulips. So I composed my photo to show that one tulip standing out in the bed of tulips. I just loved how they looked in the garden – and in my final photo.
I hope you like my Texas Gold Parrot Tulip photo as much as I do.