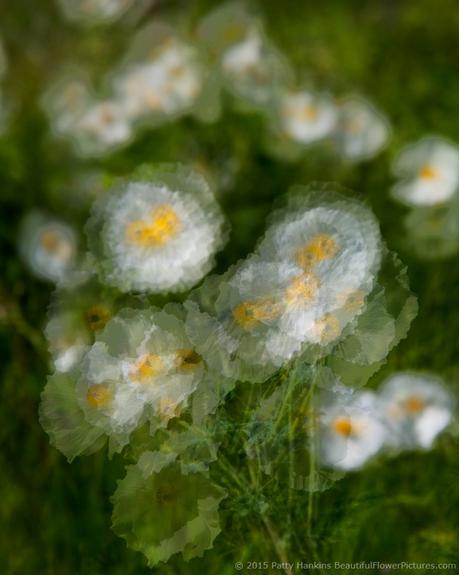 Prickly Poppies in the Wind © 2015 Patty Hankins
I've recently added a new photo – Prickly Poppies in the Wind – to my BeautifulFlowerPictures.com website.
This photo is the first photo I've ever offered for sale that is a composite photo. What you are looking at is actually a combination of ten photographs of the same set of wildflowers blowing in the wind.
Taken a couple of days after I photographed the Texas Wildflowers in the Wind – I photographed these wonderful white Prickly Poppies (argemone albiflora) along the side of the road on a windy day east of Austin, Texas. When I photographed them, I took a number of photos (somewhere around 30) with my tripod in exactly the same spot – hoping to stop the action of the moving flowers enough to capture a sharp image of these wonderful white wildflowers. When I looked at the photos on my computer – I wasn't happy with any of them. Not a one of them was sharp in all the key spots – and captured the beauty of the flowers. So the images sat on my hard drive for several months.
Then last fall I took a workshop with George DeWolfe where he introduced us to a technique for stacking images to show motion in a photograph. As I watched the demo – and experimented with a few photos I took in a nearby field – I realized that this was the perfect technique for me to use on the prickly poppy photos. So when I got home I chose ten of the images of the white prickly poppies and stacked them into one file.
I was amazed at the results – I love how the final image looks. None of the flowers are in sharp focus – instead they seem to all be moving every which way – which is exactly what they were doing along the side of the road when I photographed them. I'd love to know what you think of my photo – and if you think it shows wildflowers dancing in the wind.
Prickly Poppies in the Wind is available as a matted print on my website.