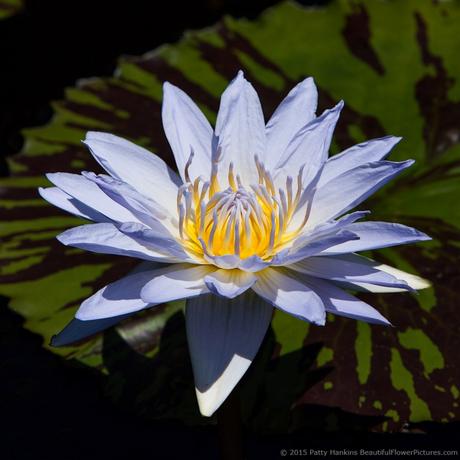 Marmorata Water Lily © 2015 Patty Hankins
I've recently added a new photo – Marmorata Water Lily – to my BeautifulFlowerPictures.com website.
Water lilies can be such delicate summer blooming flowers. I love seeing all the colors of water lilies are some of the local gardens. Not only do the petals come in all sorts of wonderful shades but the centers are often a complimentary color – like the pale purple and yellow combined in this wonderful Marmorata Water Lily.
When I photographed and edited the Marmorata Water Lily photo, I kept thinking about two other water lily photos I have – June Allison Water Lily and Panama Pacific Water Lily. The three photos are matted to the same size if you want to have an arrangement of three water lilies on display in your home. I'm always on the looking for other water lily photos that would complement these three – and when I find them, I'll be sure to let you know.
Marmorata Water Lily is available as a matted print on my website.