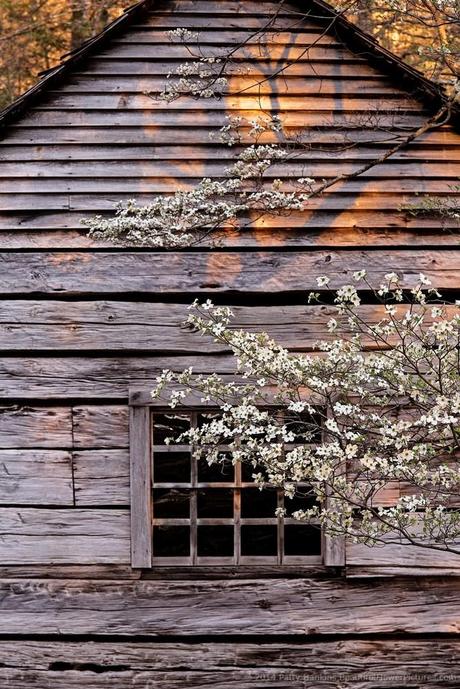 Dogwood at the Ogle Cabin © 2014 Patty Hankins
I've recently added a new photo –  Dogwood at the Ogle Cabin – to my BeautifulFlowerPictures.com website.
I took this photo last April when I was visiting my favorite national park – the Great Smoky Mountains National Park. I've always loved seeing the blooming dogwoods surrounding the old cabins in the park so capturing a photo of them was on my "want to photograph" list last year. One evening I drove over the Ogle Cabin along the Motor Nature Trail planning to photographing the cabin from the from with the blooming dogwood to the right of the cabin. But when I got there – I saw a totally different composition. When I saw the golden late afternoon light shining on the side of the cabin with shadows from surrounding trees – I knew I wanted to include that in my photo. After photographing from several different angles – this composition was the one that said Spring in the Smokies to me.
I still haven't managed to capture a photo showing the front of the cabins with a blooming dogwood alongside – but there's always a chance I'll find that photo when I'm in the Smokies in April.

Dogwood at the Ogle Cabin  is available as a matted print on my website.