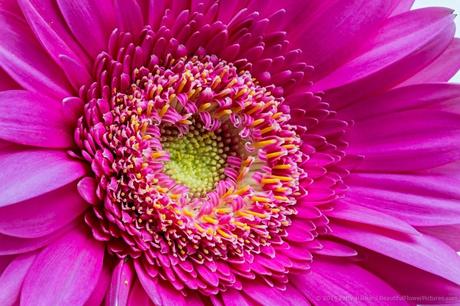 Bright Pink Gerbera Daisy © 2014 Patty Hankins
I've recently added a new photo –  Bright Pink Gerbera Daisy – to my BeautifulFlowerPictures.com website.
I've always loved Gerbera Daisies – but until I started photographing them in my studio I wasn't particularly happy with the photos I was taking of them in local gardens. Gerberas aren't native to the DC area – sometimes they do well outdoors – but often they fade quickly and don't rebloom. So when I decided to start photographing flowers in my studio, gerberas were among the first flowers I wanted to photograph.
I found a group of amazing bright pink gerbera daisies at a local grocery store – and brought them into the studio – and got out my macro lens. Finally – I could take a close up photo of the center of a gerbera daisy! I was able to capture all the wonderful colors and textures in the center, the shadows on the petals and all the other incredible details!!! For some reason, the center of this daisy reminded me of a little girl's birthday party – with all sorts of wonderful bright colors and pink streamers. Maybe that was just because I finally taking the photo of a gerbera daisy I've always wanted to take

I know many of you like gerbera daisies as much as I do, so I hope you enjoy all my new photos of gerbera daisies taken in my studio.
Bright Pink Gerbera Daisy  is available as a matted print on my website.