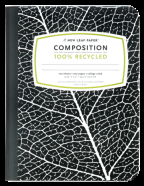 When Jeff Mendelsohn started New York Recycled Paper in 1991, he did so because paper seemed to him to be the industry that was most struggling with change. "Paper is huge, and it's one of the most energy- and resource- intensive industries in the world," he said. A decade later Mendelsohn, now the President and Co-founder of New Leaf Paper, says environmental awareness has a firm and ever-tightening grip on the paper industry. "I can't imagine anyone starting a paper company that did not integrate sustainability into their plans," he said.
It's taken awhile for the sector to reach this point, though, and New Leaf's product innovations have been a huge part of getting it there. In fact, having as small an environmental impact as possible—and pushing its competition to do the same—is baked into the company's mission. Every single transaction and product must serve its goal to be "the nation's leading source of environmentally responsible, economically sound paper [and] … inspiring a fundamental shift toward environmental responsibility in the paper industry."
In practice, this means offering a large variety of high-quality paper, many made with 100 percent post-consumer waste (PCW) recycled content and certified by the Forest Stewardship Council, and offering no products made with 100 percent virgin fiber.
The company offers a "New Leaf Paper Eco Audit" to customers as a way to quantify the benefits of using New Leaf products. Since New Leaf was founded in 1998, Eco Audit data reveals that the company has helped save more than 2 million trees, reduced greenhouse gas emissions by more than 200 million pounds, saved almost three-quarters of a billion gallons of water, and cut energy consumption by more than 1 million BTUs. It's now working hard to bring the entire paper supply chain into the sustainability fold.
After two extremely difficult and unprofitable years in 2009 and 2010, New Leaf returned to profitability in 2011 on revenues of almost $20 million. The company accomplished this turnaround even as many other major paper companies were declaring bankruptcy. Mendelsohn gives some credit for the recovery to his company's environmental commitment. "Paper companies are struggling a lot," he said. "The companies that are doing the best in the industry are those that have the strongest sustainability commitments."
In 2012, New Leaf Paper is starting to write, in earnest, the chapter on its initiative to transform the paper industry as a whole. Previously, new products were the primary way in which New Leaf strove to inspire its competition to better, green practices. It's roster of leading products includes the first ever 100 percent PCW coated paper and the world's first 100 percent PCW bright white paper processed without the use of chlorine.
This year, Mendelsohn says he is working to bring together a broad group of industry stakeholders—from paper machine makers to mills and even the biggest users of paper—to discuss the evolution of sustainability in the industry. One of the first discussions on the agenda is the use of agriculture residues such as wheat and other fibers to make paper. Mendelsohn says he's also looking to reduce the use of toxics such as chlorine in the production of paper and to make it standard practice to locate new mills close to paper recycling facilities as one way to reduce the amount of energy it takes to process paper.
Working to bring one's industry—including the competition—into one's niche could be a recipe for a failed business. But it's all part of New Leaf's overarching goal to transform the entire paper sector. Mendelsohn says it also helps inspire the company to stay one step ahead, constantly looking for new ways to innovate and lead the industry.
This post originally appeared in the 2012 B Corp Annual Report.