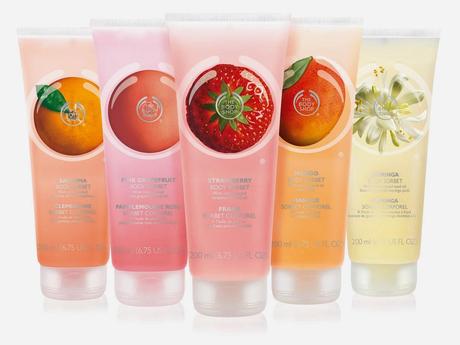 New Launch- TBS Body Sorbets 
The Body Shop keeps you cool from top to toe in the summer heat. 
NEW Body Sorbets deliver a frosty burst of moisture freshness to skin, keeping you hydrated without the sticky feeling. Available in four fruity flavours – Strawberry, Mango, Peach and Satsuma and one floral fragrance - Moringa, the Body Sorbets offer the ultimate summer sensorial experience. Body Sorbets contain 100% organic Community Fair Trade Aloe Vera from Guatemala, to comfort, cool and soothe skin frazzled by the summer heat.Store in fridge to get the ultimate refreshment for the face and body


Strawberry Body Sorbet

Moringa Body Sorbet

Satsuma Body Sorbet
Price: 795/- each
ABOUT THE BODY SHOP
At The Body Shop, we believe true beauty comes from the heart. For us, beauty is much more than a pretty face. It's about feeling good and doing good, too. 
We make our products with love and care. We source some of the finest raw ingredients from the four corners of the globe. We harness the skills of artisan farmers and add our expertise to create effective products that are wonderful to use. 
We trade fairly so communities benefit as well as you. We never test on animals, and all our products are 100% vegetarian. We campaign with passion on issues close to our heart, because activism is in our blood. 
We always keep people, animals and the planet in mind. So when you shop with us, you are choosing 'BEAUTY WITH HEART'.
Texture-wise I'd prefer Body Sorbets to Body Butters. I guess, I am going to like these beauties. Are you excited?