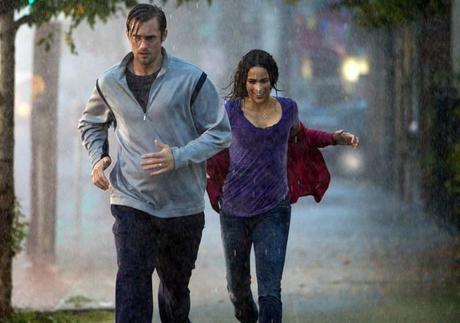 Now that Season 5 of HBO's True Blood is winding down, we're all looking for new ways to see what our favorite stars are up to. Fortunately for fans ofAlexander Skarsgård, he has been keeping busy filming a couple of new movies.
In the upcoming film Disconnect, Skarsgård joins a star studded cast including Jason Bateman, Hope Davis, Frank Grillo, Paula Patton, Michael Nyqvist, Andrea Riseborough, and Max Theriot. Details about Skarsgård's character are unclear at this point, but it's clear from one of the photos that he plays a married man. Hopefully we can expect many more promo shots from the film before its April 2013 release date. Here is the official synopsis of the film:
Disconnect interweaves multiple storylines about people searching for human connection in today's wired world. Through poignant turns that are both harrowing and touching, the stories intersect with surprising twists that expose a shocking reality into our daily use of technology that mediates and defines our relationships and ultimately our lives.
Sounds very interesting. In addition to Disconnect, Skarsgård will also co-star in the upcoming What Maisie Knew, a film that centers on a little girl caught in a custody battle between her parents. Skarsgård will be very busy in the next few weeks and months doing promotional work for both films, which means more photos for us.
Sources: Wetpaint – Alexander Skarsgård Spotted Wearing a Wedding Ring! (PHOTO)
The Playlist – First Look: 'Disconnect' With Jason Bateman & Alexander Skarsgård; 'What Maisie Knew' Starring Julianne Moore
Photo Credit: LD Entertainment/Wonderful Films