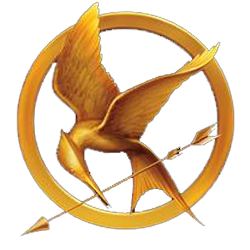 As much as I love watching film trailers, I have to say that there is virtually nothing more exciting than watching an actual clip, taken from the film. Whilst a trailer is quick snippets to salivate the taste buds, clips are like a free sample of cake, that draws you in to encourage you to buy the full cake, as it offers you a taste of the product rather than just showing you the picture on the box. Which, let's face it, is actually kind of boring!
Recently, Lionsgate have really been drip-feeding us clips, with the scene between Cinna and Katniss, followed by the scene between Snow and Seneca Crane. This new one, however, is more interesting, because it features the slightly unappreciated Gale Hawthorne.
The funny thing about this clip, is actually Gale's accent, and I'm not really sure why. I know that he is Australian, but I've never actually heard him speak, so I'm not sure why it surprised me. And, I've heard brother Chris speak with both an Australian and an American accent, so I'm really unsure, but it still took me by surprise. 
It's also nice to get a little glimpse into the friendship between Katniss and Gale, and when they hug, yeah, I really expected them to start kissing!!