August 29, 2016

new GIS Jobs Search and Posting Tools
Recently  we incorporated the Canadian GIS and Geomatics employment website (GISjobs.ca) together with our Canadian GIS and Geomatics Resources site. After more than 10 years of running the sites, we felt that it was time that we brought everything together under one brand.
Now Canadian job seekers can search CanadianGIS.com for recent Canadian GIS and geomatics related jobs with the GIS jobs search tool and employers can post Canadian GIS job opportunities using the GIS job posting form.
We will continue to  provide value to employers who use our job posting service by promoting their job opportunities using our various expanding networking channels and social media accounts.
the Story behind GISjobs.ca
The original Canadian GIS jobs site started back in 2003 while I was completing my Applied Geomatics Research graduate diploma at COGS. At the time I was like most students perusing my next career move, however this time around, was a mature student with several years of experience under my belt and had already gone through the job hunting process several times.  Therefore, I was no longer at the stage where I applied for every GIS related job I could find and instead focused more on the jobs I was really interested in.
While at COGS I often received many job postings through my various networking channels and contacts I had established over the years, which I would often forward along to colleagues that I knew were also looking for geomatics related work.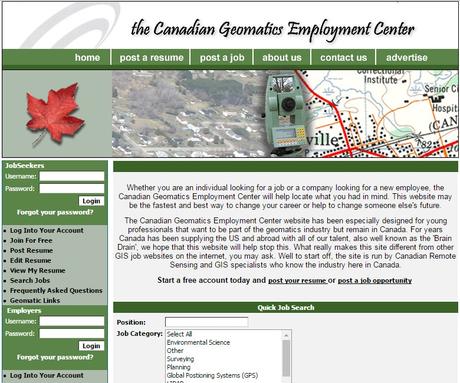 At that time, there were several good GIS job related websites available on the Internet but none of them were dedicated to Canadian jobs, so it was usually a challenge to
find GIS jobs
, if you were looking to work in GIS and also stay here in Canada. There were plenty of jobs available but you had to work hard to find them and often know where to look and who to contact.
Therefore I decided to include a small section on my personal web site (that I was using to show case my geomatics skills) where I would post some of the jobs that were sent to me to help others who were having trouble finding Canadian GIS related jobs. This made it easier for me and helped ensure I didn't miss anybody when I was forwarding emails with job opportunities.
I eventually stopped posting GIS jobs after I graduated and secured full time work at PCI, however people would still email me job opportunities and often various colleagues would also still email me to see if I knew of any good jobs.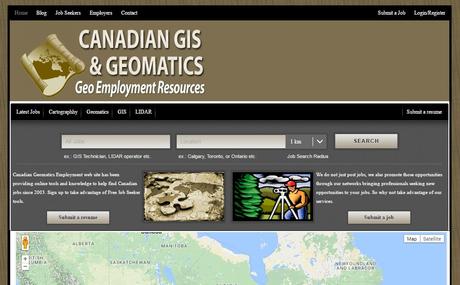 I then decided to start up the small GIS related jobs section again but this time would make it a completely new site with functionality that would employers to post jobs, providing job seekers with a place to find Canadian related jobs.
The look and functionality of the site often changed over the years but the focus always remained the same, provide a place on the web where job seekers and employers could come together to share GIS job opportunities available in Canada.
Now 13 years later, I am still getting job opportunities come my way and the Canadian GIS and Geomatics employment website continues to provide Canadians with a place to find GIS and geomatics related jobs here in Canada.
Filed in: Geo Industry News, Geomatics Careers and Jobs
Tags: GIS, GIS jobs, GISjobs, GISjobs.ca, jobs
Also Check Out ...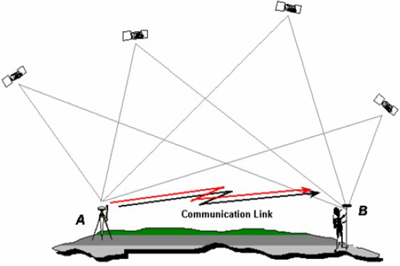 Guidelines for Real-Time Kinematic (RTK) Surveying
Over the past decade Real Time Kinematic (RTK) surveying with Global Navigation Satellite Systems (GNSS) has become common practice in geomatics. RTK surveying can allow people to achieve relative positioning with centimetre (cm) precision, however there are several important factors that need to be considered and thus a need for a good guide of best practices (equipment calibration, errors, multipath, geometry, etc.).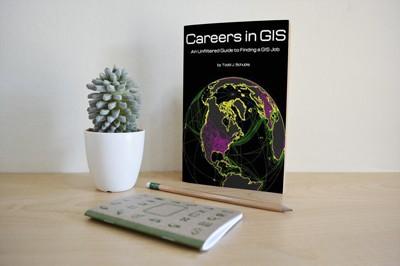 Unfiltered Guide to Finding a GIS Job
Careers in GIS: an Unfiltered Guide to Finding a GIS Job – A simple GIS job hunting strategy guide for young people starting off or already working in the GIS sector but with little experience. The digital guide tackles many of the issues that are relative to job seekers in a direct manner.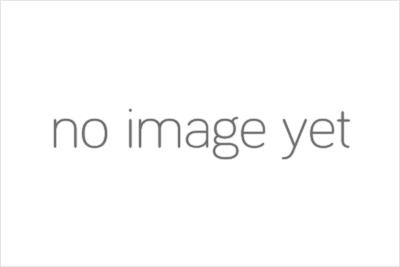 NSCC Obtains a Bathymetric LIDAR To Unlock the Mysteries Off Nova Scotia's Shores
Nova Scotia Community College (NSCC) will become the only college in Canada with a research bathymetric Laser Imaging Detection and Ranging (LIDAR) device that can unlock the mysteries off Nova Scotia's shores thanks to the support of a national innovation award and industry partners.
Smartnet Expands through Merger with Pleiades Reference Station Network