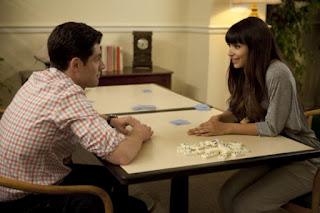 Original Air Date: 1 May 2012
Storyline: When Jess and Nick run into their exes Paul and Caroline, the gang fears they both may "backslide" into romantic relationships. Meanwhile, Schmidt desperately tries not to get aroused as he deals with a delicate medical issue, Winston suffers the consequences of a wild night out with his boss and Cece brings Schmidt to a nursing home to meet her grandmother.
Best Quote:

Schmidt

: Jess, first of all, you're never gonna be old, humans are going to be immortal by 2026. Second of all, give me your phone. You have backslider written all over you.