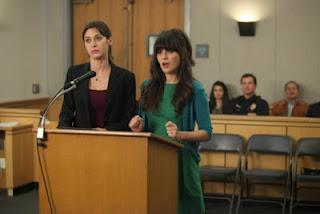 Original Air Date: 31 January 2012
Storyline: 
Nick panics when Julia doesn't want to put a label on their relationship. Meanwhile, Jess enlists Julia to help her get out of a traffic ticket, Winston reconnects with a former booty call and Schmidt is baffled as to why his shower towel is always damp.
Trivia: 
Jess's ticket has it written out that she is driving a 2006 Ford coupe, when she drives an older Volvo station wagon.
Best Quote:

Julia

: You never know, a judge might buy into this whole thing, so..




Jess

: What whole thing?




Julia

: Your whole thing. With the cupcakes and the breaking for birds, and the bluebirds come and help me dress in the morning! 




Jess

: Oh wow, I didn't know I was doing a thing.




Julia

: It's a great thing. The big beautiful blue eyes. I bet that gets you out of a lot of things.




Jess

: Yeah, except my peripheral vision is almost too good.


She's Adorkable!: I'm about to go pay this fine, and my checks have baby farm animals on them, bitch!

The Douche Factor: Can someone please get my towel? It's in my room next to my Irish walking cape!


Review: Nick is officially out of my cute guys list. Why, you will ask? Well, the reason is very simple: how can you not wash your towels, man? That's just fundamentally wrong! And it's also one of the best ways to get rid of a girl, since nothing can gross a woman more than dirty linen. If I were Julia, I'd run away as fast as I can and I'm not saying that because I hate her.

Though to be honest, I'm a bit like Nick in that I went to law school and I still hate lawyers and couldn't live that life. And I may not rock a lot of polka dots, but I still love fun colorful skirts and desserts. Especially desserts.

This week's episode was mostly about Jess versus Julia, or the clash of the ladies. Opposite of her character on True Blood, Lizzy Caplan's Julia is so judgmental that I'd like to throw her out the window at some point. So when she dares to tell Jess that she has a "thing" - which, frankly, brought a smile on my face as I imagined Amy Adams in Enchanted being dressed up by birds - it was hard not to expect a less subtle battle coming up at some point. Especially since girls fight differently than guys and they hold grudges over the tiniest of things.

Jess is quirky and not everyone likes that, but this was the first time someone really hated her for her quirks. But what people may not have seen before is that behind all her weirdness, Jess is a person who knows how to fight back and her speech to Julia made me applaud. You have to admire someone who can be tough even though she wears short colorful skirts and has checks with baby farm animals on them, which she is not afraid to use to pay an $800 fine. Or crochet, for that matter. 

One of my favorite moments was Cece defending her friend and wearing the ribbon hat. Even if Jess didn't really need defending. as weird as the friendship between the two may seem, I love it mainly because they are so different.

Returning to Julia, the relationship between her and Nick is far from being perfect. Their stubbornness in not labeling it was less sophisticated and more childish and ended up with both of them crying in the bathroom. And with Nick making a lot, and I mean a lot of turtle faces throughout the half hour. If I made a drinking game out of it, I'd be unable to type right now.

Winston and Schmidt had their own arcs as well. While Winston discovered he doesn't have any game and tried to rekindle the relationship with his old booty call, Schmidt's problem was damp towels. And, while I'm glad Winston is finally going to get some, I was definitely more amused by the towel issue, one I could relate with. That's one of the reasons I decided to give up roommates and live alone: I hate damp towels and definitely hate someone else using mine.

Some other fun moments: Jess running into the bathroom and calling Schmidt "daddy"; Schmidt finding one of Jess' tampons in the watermelon-themed apron's pocket; the explanation on how Jess got the speeding ticket in the first place. And, most of all, crochet time!

New Girl 1x10: The Story of the 50 Back to Season 1