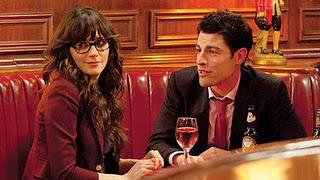 Original Air Date: 20 September 2011
Storyline: Jess Day is a young woman who, after discovering her long-term boyfriend is cheating on her, moves into a loft apartment with three male roommates - prickly bartender Nick, womanizer Schmidt and intense personal trainer Coach. The guys try to help Jess get back on her feet and into the dating world.
Trivia: Damon Wayans Jr, who plays Coach, had to be written out after ABC's Happy Endings, where he plays one of the leads, was renewed for a second season.
Best Quote:

Jess

: (on the phone) I gotta go, Mom. No, I'm not watching Dirty Dancing. No, I don't think so. (to Nick) Hey, are you going to murder me cause you're a stranger I met on the internet?


Nick

: Yes I am. 




Jess

: (back to the phone) He says no.


She's Adorkable!: You know in horror movies when the girl's like, "Oh, my god. There's something in the basement. Let me just run down there in my underwear and see what's going on, in the dark." And you're like, "What is your problem?! Call the police!" And she's like, "Okay", but it's too late, because she's already getting murdered. Well, uh… my story's kind of like that.Review: Another show with a geeky main character? Hell yes! Jess caught me from the first time she opened her mouth and her Lord of the Rings reference basically ensured that I will keep watching New Girl. 

This is the kind of series that you either love and hate, and that's mainly because you either love or hate Zoey Deschanel. I personally love her quirkiness, though it hasn't always been that way. But over time she's grown on me and is now one of my favorite actresses. I've heard people compare New Girl with The Big Bang Theory, but, although they both deal with geeks, it's just not the same thing. There's nothing sciency about this one, I think Jess is a character many can relate to and so are the three guys she moves in with.Jessica Day - Jess - moves in with three guys after her ugly breakup with a guy that, frankly, looked like he could fill the douchebag jar in a couple of hours. She's quirky, likes to sing to herself, makes a lot of movie references and is socially awkward - much like her big sister's character on Bones.

As for the guys, they are not so skilled at life as they want to appear - Nick is still not over his breakup with Caroline and keeps calling her to tell her he still loves her, though it's been six months already; Coach doesn't know how to speak to women, despite his cool air; and Schmidt is the biggest douche you will find: he thinks he's charming and good looking, but comes off as creepy when he talks about women.

The pilot focuses on the guys trying to get Jess off the couch - mainly because her Dirty Dancing reruns would annoy even a huge dancing/Patrick Swayze like myself - and back into the dating world. 

I laughed and I cried throughout the episode, much like Jess. I love her quirkiness and her singing, but what I found most endearing was her basic understanding of human nature, despite being a socially awkward gal. The scene when she explains to Nick why he has to get over Caroline gave away that, despite living "on a sparkly rainbow and drive a unicorn around", she sees life for what it is - something to be enjoyed. But the best scene of the evening was definitely the one when the guys meet her at the restaurant and start singing "(I've Had) The Time of My Life".

Jake Johnson, Max Greenfield (Veronica Mars) and Damon Wayans Jr. were funny as Nick, Schmidt and Coach and it's too bad Wayans will not be a part of this show from the next episode, he had good chemistry with Zoey Deschanel and I loved their scenes together.

There's still work to do in order to make this show a bit more fluent, but I'm already hooked. It was funny and sweet and I'm totally having a girl crush right now on Jess.

Back to Season 1