I'm not what you call an observant person. I'm don't keep Sherlock Holmes up at night worrying about job security. I'm oblivious. Head in the clouds. Scatterbrained. Slapdash. Not detail oriented.
I don't say this to brag. Usually, when someone says "oh you know me, my head's always somewhere else!" they're secretly trying to brag that they are artsy or creative.  As they say it, if you listen carefully, you can hear a low growl coming from the person standing behind them.
That's the person who lives with them and cleans up their messes.
If being ditzy is something that comes with creativity, it is more of an unfortunately side-effect than a bonus, like the dazed look that comes with taking allergy medicine.
New! Fast-Acting Creativity!
Side-effects may include: hyperactivity, inattentiveness, inability to make money, disorientation, inability to do math, delusional optimism, mismatched socks, obnoxious behavior, turning other people's trash into slightly different trash, hoarding, spilling, trying to draw focus from attention-hogging children, talking out of turn, abandoned blogs, allergies to reality, talking with nothing to say, being broke, talking to yourself, talking to the dog, believing the dog has/will talk back, spending days on inane hobbies & then complaining you have no time, workplace dissatisfaction, walking into rooms but not knowing why, never having enough, cooking experiments now banned by the FDA & ATF, lack of sleep, catching things on fire, incessant apologizing…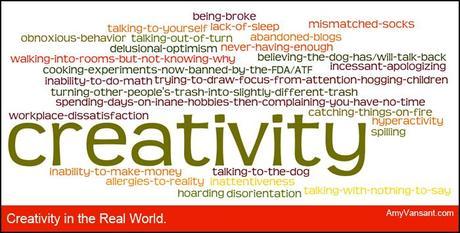 But the other day, I realized being inattentive does come with one little perk:
Commonplace things can seem new to you at any moment.
Me: Hey, that looks nice! When did you put that vase there?
Mike: 2003
Me: Oh. Well I love it!
---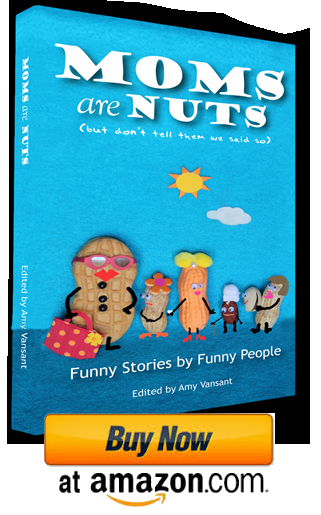 Hang out with some "creatives" by  buying the amazing book "Moms Are Nuts!"
Featuring 25 hilarious people you already love:
Wendi Aarons | Eliza Bayne | Dylan Brody | Matthew David Brozik | Becky Cardwell | Abbi Crutchfield | Sean Crespo | Gloria Fallon | Carol Ray Hartsell | Abby Heugel | Debbie Kasper | Nancy Davis Kho | Kelcey Kintner | Cathy Ladman | Kurt Luchs  | Kelly MacLean | Vanda Mikoloski | Mary Laura Philpott | Lisa Page Rosenberg | Marinka | Arlene Schindler | Molly Schoemann | Susan Stobbart Shapiro | Suzy Soro | Amy Vansant | Peggy "Pearl" Vork-Zambory
And check out our "Blooper Reel" from the peanut cover shoot!
Get our "funny quote trading cards" for Pinteresting!