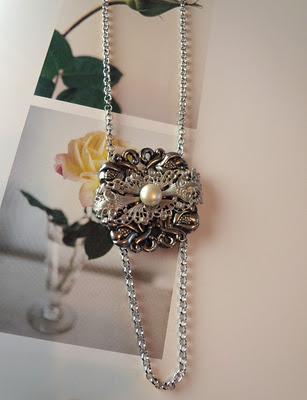 The Holidays are just around the corner and I've been busy coming up with new Eyeglass Necklace designs.  Always a best seller, they make a great gift for mothers, grandmother, aunts, co-workers...and anyone else you happen to know who have to take their reading glasses on and off all the time.  Shopkeepers and Gallery workers find them particularly useful too!  To use the necklace to hold your glasses, just slip the arm of the glasses through the bottom loop. Your glasses will stay there, safe and secure.
 
A much more attractive option to the usual lariat style glasses holder, these necklaces are designed from beautiful vintage filigree and vintage glass.  When it is not being used to hold your glasses, it can also be worn as a regular piece of jewelry. 
Available to anyone through my shops on Etsy and Artfire at a great wholesale price!