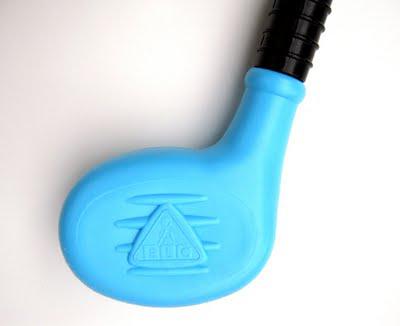 Golf Refugees have noticed that many golf sites offer their readers product reviews. Unlike other so called 'independent' sites, we do not have a cosy relationship with the big brands and would happily say if their latest product was a load of junk.

Our testers have been busy testing, indoors and out, with the latest 'ELC' driver. It completely ignores the latest 'white' colour trend and goes instead for a calming pastel blue. We feel this could be of benefit to nervous golfers and those wishing for a lighter grip. It certainty made our testers feel super-relaxed. Through thorough investigative research we found it is also available in green.

What about the science bit? Well it's made from a 'forged' composite material which combines high strength fibres embedded in a thermoplastic matrix. Apparently Dyson use a similar material for their fabulous bladeless fan.

We found it to be a very forgiving club, but were puzzled by a slighter shorter shaft length. Head of development Dominic McAndrew said "they wanted to avoid 'shafting' the public by simply using a longer shaft to gain extra distance".

In a group test, our players thought the ELC driver outperformed the latest offerings from Taylor Made, Callaway and Nike.

But don't take our word; go to one of the many demonstration days at your local Fisher Price store.
-----------------------------------------------